By Joy Washington
Antonio Birch, an alumnus of the University of South Alabama who worked as a student at the USA Mitchell Center, never thought he would have a dream job at his alma mater.
After earning his bachelor of science degree in business management with a concentration in entrepreneurship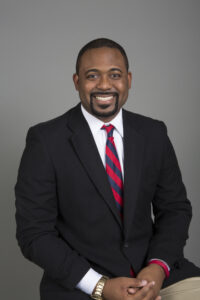 from the USA Mitchell College of Business, he received his first job in banking. He was later hired at South as an events coordinator.
Birch's dream became bigger when he was promoted to event service manager at South. His daily responsibilities are to manage logistical activities for all of the events held at the Mitchell Center, Moulton Tower and Alumni Plaza, the Chi Omega Amphitheater and the USA Faculty Club.
"I am responsible for event services aspects of several facilities," Birch said. "I assist with the planning, monitoring, directing, delegating, supervising and managing the event coordination, security, crowd management and contracted service provider functions."
Birch loves what he does and enjoys supporting his clients. He first got the event management bug when he worked at the Mitchell Center as a student.
"What I love most about this new role is my ability to be part of the entire process of an event, from brainstorming ideas with clients to executing the event," he said. "People enjoy events that lead to a memorable experience. I am a proud member of a team that makes sure that our clients have excellent events."
Victor Cohen, arena manager for USA Mitchell Center and other campus facilities, said he is pleased to have Birch on his team.
"After graduation from South, Antonio was fortunate to start his career in the financial world," Cohen noted. "I knew that facility management was in his blood. After some time had passed, we were able to have him rejoin the Mitchell Center team as our event services coordinator. Because of Antonio's solid foundation and aptitude for this industry, it was a no brainer to promote him as an event services manager. I am very proud of him as a person and for the many accomplishments he has achieved with us."
Birch is married to USA alumna Shaquana Giles. They are expecting their first child.
Joy Washington is Director of Public Relations in the USA Office of Marketing and Communications.