By R.V. Baugus
I have a side gig serving as the high school football public address announcer for the Irving Independent School District. We have three high schools that I call games for, depending on which one is playing at home on any given week. I pray that we will have high school football this fall with fans in attendance as I prepare for my sixth year.
I love my side gig, but I hate that the support for the three local schools is not greater. I feel for the kids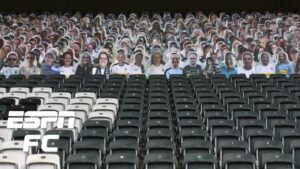 on the field who give their all, as well as the band, cheerleaders, drill team, and really anyone involved with the production of the game.
I say all of this because many a night I am bellowing about a touchdown or an interception that I wish was heard by more fans in the stands. But what to do, what to do?
Both here in the United States as well as abroad, discussions are taking place or verdicts have been rendered about pumping in fake crowd noise to give sporting contests a feel of, well, having someone in the crowd, even if it is to call a guy a bum. Just kidding on that, I think. I hope the crowd noise is restricted to just that — crowd noise.
A couple of weeks ago I blogged about how World Wrestling Entertainment began using a plexiglass barrier around the ring and how that might be utilized going forward once venues are able to return to some sort of capacity. For the first few weeks of the live Monday Night RAW show that has emanated from the company's training center in Orlando, it was just the wrestlers, the announcers, and the referee. It was cool in the sense that you could hear every person's voice in any given match, but odd in the sense that was all you could hear.
Now, behind the plexiglass stand men and women training at the WWE performance center as they work their way up to the big time. Like fans in any arena hosting a live Monday Night RAW, these "fans" wear T-shirts of various wrestling talent, cheer and boo as arena fans would and, yes, throw out the occasional "you suck" to a villain wrestler.
It's not a full arena, obviously, but it's not fake crowd noise either.
Abroad, plans have been outlined to enhance the viewing experience in football's Spanish LaLiga and English Premier League, which are both set to return to action this month.
LaLiga, which organizes the top two divisions of Spanish football, has revealed that matches will "look and sound different," with the virtualization of stands and fan audio among the initiatives planned for viewers watching on television. New camera positions will also provide viewers with fresh images. LaLiga's official production partner Mediapro will help implement the new initiatives.
The virtualized stand feature will be offered to LaLiga's international broadcasters and will provide to-scale images of seated fans wearing the colors of the home club. LaLiga has teamed up with Norwegian company VIZRT to develop this experience. When the match is stopped, the image of fans can be transformed into a canvas that matches the color of the home team.
Virtual sound will also be featured through a collaboration with EA Sports' FIFA game as part of a project called 'Sounds of the Stands.' The audio library of EA, which was recorded in real stadia, has been used and digitally adapted so that it can be applied in real time during matches. The sound can be adapted to the flow of the game as certain situations occur, such as a goal or a foul.
Some cameras will also shift their location to positions where they would previously have affected the sightline of fans in the stands. For example, the aerial camera will modify its flight path to offer new shots, while the bench camera will be moved to the opposite stand and robotic cameras will be used in the tunnel for health safety reasons.
Talk about making lemonade out of lemons!
For our industry, though, to become fully healthy again, we know that we need fans in the stands, on the exhibit floor, in the seats, to get us back to where we need to be. But as sports prepare around the globe to play in some fashion or another, until we get to that point let's thank technology for helping create as much of a real experience as possible.