No venue wants its revenue stream to become a trickle. That's why sessions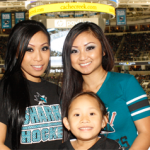 and discussions about non-traditional revenue streams are always among the most popular. Who doesn't want their revenue stream to turn into a flood of money?
One such stream gathering steam is FanPhotos, a concept from Brand Affinity Technologies, Inc. that engages patrons at events by having roving photographers snap pictures of the event-goers that are sold to the patrons to capture the memory and experience. The company announced a recent partnership with AEG Events that includes FanPhotos fan activation services at 10 select AEG-affiliated venues.
Here's how the program basically works: Attendees have the option to purchase the photos on site or have them mailed to their home, or they can purchase a download to share at the event via social media.
The concept is not exactly new as Disney has long since implemented the concept of "fan photography" at its theme parks. Whether it is posing with Mickey or having your wild-eyed picture taken while riding Space Mountain, Disney has had this territory covered.
But when it comes to public assembly venues, the concept is a relatively newer one.  
"It's a concept that has been applied to the sports and live entertainment industries and is now  implemented at hundreds of venues," said Jennifer Black, vice president, marketing and commerce for Brand Affinity Technologies, Inc. "We have seen that attendees at these types of events are just as excited about having their photo taken to commemorate the experience. With the continued rise and popularity of social media and photo sharing, FanPhotos services are extremely popular and relevant to crowds of fans at all venues."
Of greater significance to venues is the opportunity to create that extra income.
"Sports teams and sports and entertainment venues leverage the FanPhotos programs to primarily activate and engage fans, while also generating a significant revenue source," said Black. "The teams and venues get a portion of all products purchased by the fans."
Aside from revenue, more venues see an opportunity to build brand loyalty as those photographed will tell friends where the picture took place. Most of all, said Black, fans do not see being stopped on the concourse as a distraction on the way to their seat.
"No, not at all," she said. "In fact, we have found that fans are very interested and excited about getting photographed. The photos create a memory and emotional connection to an event, which we believe helps build brand loyalty for the venue and helps the venue extend its reach long after the event is over.
"Also, at many event locations, we have stationary set-ups in addition to roving photographers, and there is always a long line of excited fans waiting to be photographed against an iconic backdrop."
It is against that backdrop, figuratively and literally, that venues can add to their revenues.