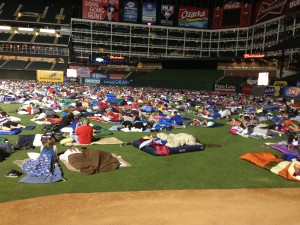 When a baseball player has just been described as "napping in the outfield," chances are good he has missed what should have been a catchable fly ball. But last Saturday night at The Ballpark in Arlington, home to the Texas Rangers, some 2,000 paying guests actually had an opportunity to grab a night's worth of z's in the outfield thanks to a Fan Sleepover event.
The team had been heavily promoting this most non-traditional revenue event during its broadcasts on Fox Sports Southwest, and the result was an advance sellout that somewhat surprised but certainly thrilled the team and venue.
"We could probably have sold more, but decided to cap it at 2,000," said Sean Decker, director of sales and operations for Texas Rangers Enterprises, an arm of the team involved in aggressively seeking such non-traditional opportunities when the Rangers aren't playing at home.
It was a decidedly family event as beer was not sold. Doors opened at 6 p.m. and fans were given tours of the stadium. There were games, bounce houses and kids frolicked in the Kids Zone beyond the outfield. Later, fans seated themselves in the stands to watch the Rangers on the jumbo screen take on their in-state rivals, the Houston Astros. Vendors worked the crowds and the concession stands and gift shops were open for business.
"We are always looking at ways to keep pushing the needle."
Afterwards, fans headed to the outfield with sleeping bags, sleeping mats and pillows in tow. Two GoVision screens were set up in the outfield for a 20th anniversary showing of The Sandlot. Before the movie, director, writer and narrator David Mickey Evans spoke to the crowd.
Once the movie ended, it was time to turn out the lights for an evening of sleeping under the stars, or trying to sleep under as many stars as a big city will display. The alarm sounded at 7 a.m. on Sunday and the evening's guests made their way home.
"We were trying to make this a place to be utilized for more than just baseball," said Decker, who emphasized that it was equally important to keep the outfield as pristine as possible with the season in play. "We are always looking at ways to keep pushing the needle."
Decker knows a thing or two about assembling a sleepover as he did a similar event when he worked with the Triple A Colorado Springs team. Rangers Ballpark even hosted a scout sleepover last September.
Decker said that a sleepover night would have in the past been directed to the special events arm of the team but that the creation of Texas Rangers Enterprises allows for more aggressive opportunities.
Could there be multiple sleepovers during the season? Decker did not dismiss the notion, saying, "It has legs. But I can't spend the night here all the time. I'll lose my wife."