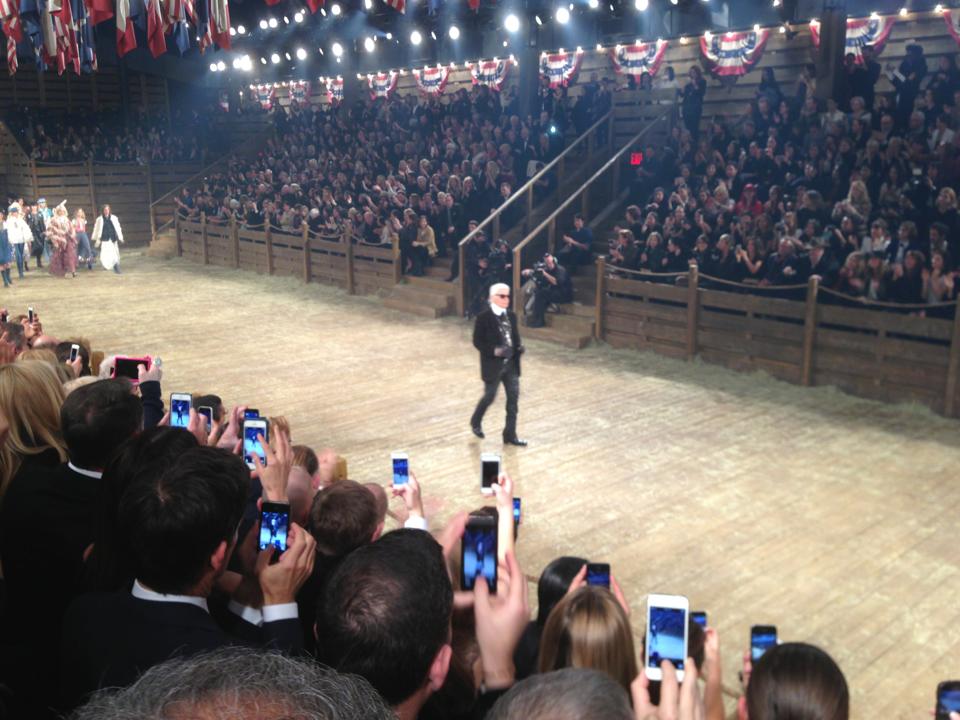 Fashion industry elites found their way to Fair Park in Dallas for one of the season's biggest events, the Chanel Métiers d'Art runway show, on December 10. Celebrities—such as Kristen Stewart, Lauren Hutton, and Dakota Fanning—were among the 1,000 people who attended the coveted invite-only show planned by Chanel's Artistic Director Karl Lagerfeld.
The event's three parts—a "drive-in" screening of Lagerfeld's short film, The Return, which featured classic cars in Fair Park's Automobile Building; a runway show styled like a rodeo arena; and an after party—were planned exclusively by Chanel's international events team, who had complete control over the final look.
And it looked fabulous, fitting for the classy Chanel fashion house, which proves that non-traditional events can happen successfully in venues more accustomed to meetings, concerts, or games. As usual, it comes down to details, details, details.
"Our primary consideration is always what other events or activities are occurring simultaneously/concurrently given the fact that we are a complex of venues, museums, and a public park," said Daniel Huerta, the executive general manager for Fair Park and an IAVM member. "Other considerations were traffic management, grounds and event security, and limited access.  We vowed to work with the show to insure that no word or photos would leak out ahead of the event in regards to the build out of sets, props, plans, etc. We dedicated a large amount of staff hours to insure that the event was a success, but in all honesty it wasn't handled much differently that other events we host throughout the year.  It required a bit more team work given the number of days required for the move-in and set up."
Considering the nature of the event and who all attended, security was definitely a high priority.
"Event security was handled by our contractor, Platinum Services, and the Chanel security team," Huerta said. "There were six walk-throughs of security to make certain that everyone involved was on the same page.  Everyone knew what  was happening, when it was happening, how it was to be handled, etc., and no exceptions were made.  A credential system and check-in area was established with limited access for staff unless our services were requested.  We did not allow use of cellular or electronic devices inside the building, as we didn't want the client to lose the 'wow factor' via social media tweets or pics ahead of the party."
Once the party began, though, it was the talk of the town, reaffirming Dallas' premier place in the fashion world, as well as Fair Park's ability to host with style and class.
(Image: Nancy Martin Koen)