By R.V. Baugus
Ebony Hattix, box office manager for FedEx Forum in Memphis, was recognized along with nine other women and some fellow IAVM members in the International Ticketing Association (INTIX)'s yearly review of inspiration women.
Under the heading of Ebony Hattix: A Superhero in Ticketing, Hattix talked about big opportunities she sees in the year ahead for ticketing. Hattix was honored along with Jane Kleinberger, Linda Forlini, Amy Graca, Crystal Brewe, Lynne King Smith, Jo Michel, Angela Higgins, Sherletha (Lisa) Thomas-Cutts, and Stevie Gray.
Hattix's comments were presented by the INTIX Women in Entertainment Technology Program, sponsored by Lynne King Smith and TicketForce.
"I love people! Building relationships and creating positive experiences is my favorite part of this job," said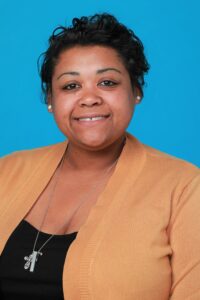 the always positive Hattix. "Sometimes, the most interesting people are not always on stage. Learning about people and being able to create a show or an event that will somehow enhance the power of someone's fond memory is honestly epic."
Hattix manages the day-to-day ticketing operations of any events hosted at FedExForum. "Our box office team works as liaisons between all departments of the organizations, promoters and Ticketmaster," she said, "to host events from manifest creation to event settlement. We handle reporting, sales order processing, daily ticket financials, general questions, [and] manage part-time employees. Anything ticketing is our responsibility!"
Hattix knows customer service well following a year at the Disney College Program in Orlando following her graduation from the University of Mississippi. In Orlando, she worked in a number of different industries early on — everything from hotels to interior design to public housing.
She also had a part-time position at the BancorpSouth Arena in Tupelo, Miss., where she eventually worked her way up to the Assistant Director of Ticketing position.
Hattix shared with INTIX her thoughts on how the public assembly venue continues making strides in diversity.
"Doors of opportunity are there for everyone," she told INTIX. "And if you find one closed, knock it down! The world of ticketing is ever changing, so find how you can make it better and go do it. Opportunity is everywhere in this area of the industry. If you are interested in ticketing, find a good mentor and just jump right in.
"Never compare yourself to anyone else in terms of success, beauty, life, etc. You don't know someone else's journey. Surround yourself with people different from you. It is how we learn, and never stop learning. Those around you should challenge you to be better — a better person, a better employee, a better whatever. Push yourself further than you thought you could go, but do it for you and not others."
Hattix serves on IAVM's Diversity and Inclusive Leadership Committee, where she continues making a difference in the industry.