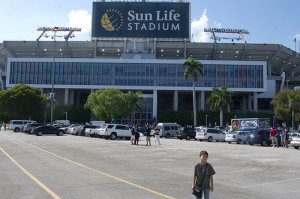 A translation for the Spanish word "fin"  is the end. The Miami Dolphins of the National Football League are affectionately known by their fans as the "Fins." Coincidence? We think maybe not.
Deep in South Florida the sabers are rattling quite loud and clear about the future of a franchise that has still produced the only unbeaten Super Bowl champion in history. At issue as is often the case is funding. In this case, team CEO Mike Dee said that the team will not pay for any renovations to Sun Life Stadium after the Florida Legislature ended its session on May 3 without passing any funding plan for the 26-year-old venue.
In essence, you have your basic stalemate that knows no boundaries when it comes to various sports venues. But the cash cow known as the National Football League is one entity where someone seemingly waits on the next street corner to snatch up a disillusioned franchise, one usually disillusioned by its stadium.
Want examples? Cue the musical chairs music, because in recent years the St. Louis Cardinals left to become the Arizona Cardinals (new stadium after playing the first few years at Sun Devil Stadium), upon which the Los Angeles Rams left to become the St. Louis Rams (new stadium in the Edward Jones Dome).
The Houston Oilers bolted to Tennessee (new stadium in LP Field) but later were granted a new franchise in Houston with the Texans (new stadium in Reliant Stadium). The Baltimore Colts loaded up in the middle of the night to become the Indianapolis Colts (new stadium in Lucas Oil Stadium), only to have the Cleveland Browns depart to put a team back in Baltimore to be known as the Ravens (new stadium in M&T Bank Stadium). Cleveland was later granted a franchise and kept the name Browns and played in a … what, you thought we were going to say the old Municipal Stadium? Correct, they played in the new FirstEnergy Stadium.
Notice a common thread here?
The team wanted the state of Florida and local reserves to help pay for some $400 million worth of improvements and renovations to the venue that when it was new moved the team out of Miami's Orange Bowl.
"At this time we have no intention of investing more."
Sounding ominous, Dee told television station WFOR in Miami that, "At this time we have no intention of investing more."
The Legislature's non-action likely speaks volumes as to the city's ability to garner future Super Bowls, especially for 2016 and 2017 when Miami was prepared to compete with Houston and Santa Clara, California (they are still the San Francisco 49ers, but will be playing in a, yes, new stadium).
Interestingly, when the Fins' stadium opened as Joe Robbie Stadium it was the first of its kind to be constructed entirely with private funds. Twenty-six years later, the battle is quite public.