On February 21, 2007, Rimrock Auto Group announced a 10-year, $1 million naming rights deal for MetraPark, the arena that opened in 1975 in Billings, Montana. Beginning July 1, 2007, it became known as the Rimrock Auto Arena at MetraPark.
That will change this month following a naming rights deal to name the venue the First Interstate Arena.
Ray Massie, director of marketing and sales at MetraPark, said the goal is to have the new signs up by MontanaFair, which begins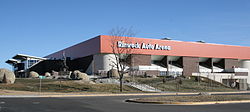 August 9. Expect the venue's other signage to change at about the same time.
Some changes are more immediate, such as the changes people will see on sold tickets identifying First Interstate Arena and not Rimrock Auto Arena.
In January, Yellowstone County Commissioners accepted the bid from First Interstate Bank to replace the expiring deal with the Rimrock Auto Group. It was one of two primary bids that were considered. The new deal is worth $875,000 over five years.
Many remember a devastating tornado that tore through Billings on June 20, 2010, that even earned a name as the Father's Day Tornado. The arena suffered major damage and was remodeled in 2010-11 with a number of improvements including improved acoustics, more restrooms and concession areas, and easier access from the parking areas. The arena is an energy efficient building with contemporary aesthetics. On April 10, 2011, with the outer arena still under construction, Elton John played the first concert in the Rimrock Auto Arena since the tornado.
Rimrock Auto Arena at MetraPark has also been home to two teams with the Indoor Football League IFL. The Billings Outlaws played in the league from 2000 to 2010 before disbanding following the June 2010 Father's Day tornado. In 2015, the league expanded adding the Billings Wolves but only lasted two seasons before folding. The arena seats 12,000 and is also home to numerous concerts and family shows and events.