First National Bank Arena, a premier arena and entertainment venue in Northeast Arkansas, announced the addition of two directors to its executive team. With the addition of Mac Beaverstock as the Marketing Director and Brandon Murphy as the Director of Operations, the First National Bank Arena solidifies its commitment to delivering exceptional experiences and maintaining its position as a leader in the entertainment industry.
Beaverstock, a recent University of Arkansas graduate with a passion for marketing and a creative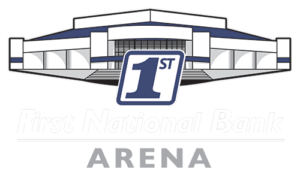 mindset, brings fresh perspectives and innovative strategies to First National Bank Arena. With a degree in Management and a minor in Marketing, Beaverstock is eager to make a significant impact in the entertainment industry. With his strong understanding of emerging marketing trends, Beaverstock will lead the venue's marketing efforts to new heights, positioning First National Bank Arena as the go-to destination for unforgettable live experiences.
As the new Director of Operations, Brandon Murphy will oversee the seamless execution of all aspects related to the facility's operations. Murphy brings to the table years of experience in the vast array of different events hosted by FNBA. He continuously strives to create a winning atmosphere as well as a sense of family among his coworkers and clients. For the past five years Murphy has dedicated his life to Breaking Bonds Ministries, a local nonprofit, originating in Northeast Arkansas. Murphy served as Director of Operations for the Jonesboro Chapter from 2019 to 2021 and also as the Executive Director of the Jackson, Missouri Chapter from 2021 to March of 2023.