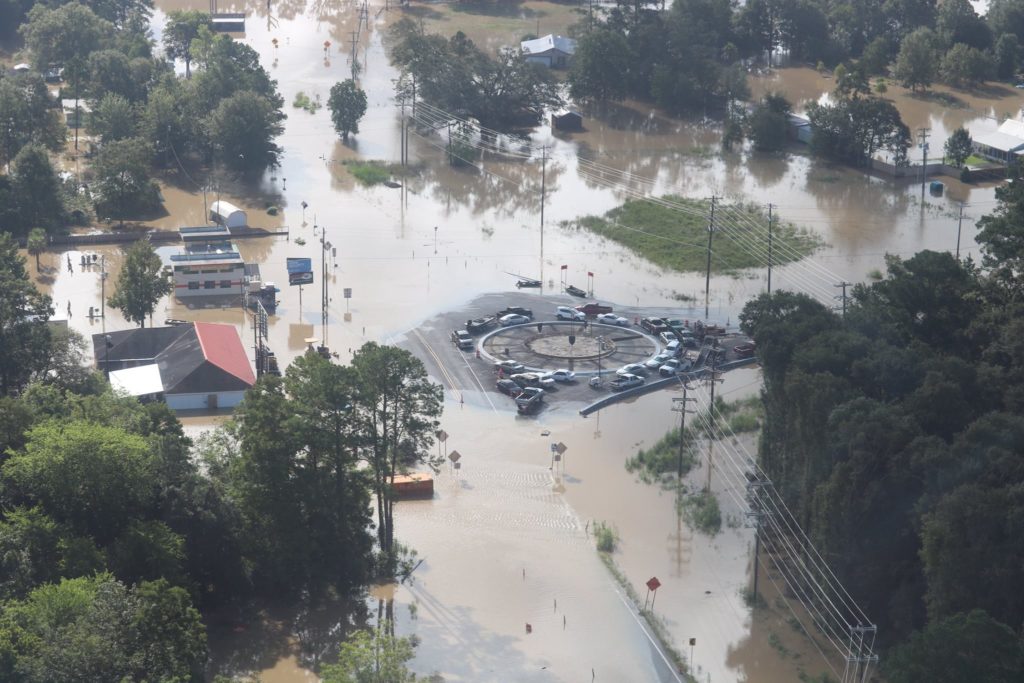 The recent floods in the Baton Rouge, Louisiana, area have left more than 11,000 people in shelters and eight people dead as of Monday, August 15.
"The number of people seeking shelter increased about 10 percent between Sunday and Monday night," Julia O'Donoghue reported for The Times-Picayune. "There are at least two shelters in the Baton Rouge area—Celtic Media Centre studios and the Baton Rouge River Center—capable of holding thousands of people."
Setting up cots at the Baton Rouge River Center. #laflood #lawx pic.twitter.com/Sho4jHqINj

— Julia O'Donoghue (@JSODonoghue) August 15, 2016

The IAVM family has several members in Louisiana, and we reached out to them for updates.
"We are fine in Metairie (home) and in New Orleans (The University of New Orleans and Lakefront Arena)," said Marco Perez, general manager of the Lakefront Arena. "My daughter was stuck in her apartment in Baton Rouge. She has not flooded and we do not anticipate the backwater flooding to reach her either, but that has us a little tense. My understanding is that the waters should start to go down later today, hopefully.
"Another parent was able to get to her and her roommates and safely bring them home so she is safe in her room," Perez continued. "Her car was here at home so even that was a plus. So much devastation up there. I am blown away. This may turn out to be as bad a Katrina, but without the wind damage. The flooding is amazing. Historical proportions."
Many other members let us know that they are OK.
"Our area of the state—along with other venues in southwest region—have been spared from flooding issues," wrote one IAVM member. "It's very eerie to think that we're only approximately 40 miles away from the impacted areas."
Another IAVM member said, "The river came out of its banks and filled part of the yard, then the river crested before reaching the house and has been receding since. Thank God we were spared this time."
The New Orleans CVB has offered assistance by accepting donations on its loading dock:
—Non-perishable food items. Needed food items include: canned vegetables, fruit, and meats (tuna and chicken), soups and stews, beans and chili. Peanut butter, pasta, rice, breakfast cereal, shelf-stable milk. Highly nutritious items such as protein bars, Ensure and PediaSure are also needed.
—Bottled Water – prefer in palettes of 24
—Personal Toiletries
—Cleaning Supplies
The CVB team has volunteered to accept and sort donations between the hours of 8 a.m. and 4 p.m. through Friday, August 19.
—All items will be sent along with the existing LRA and Second Harvest transportation in place to Lamar Dixon where authorities have requested that all assistance be filtered and where teams from Centerplate are already setting up temporary facilities to provide meals.
—We will not accept clothing donations or furniture donations, and those should be coordinated through Orleans Parish Sheriff's Office: http://www.opcso.org
—Mayor Landrieu's office suggests offering support here: http://www.gnof.org/nolapayitforward/
—We will not accept cash donations. Anyone wishing to contribute CASH, we suggest support of Second Harvest food bank which is partnering with us on the distribution of your contributions: https://give.no-hunger.org/checkout/donation?eid=91189
(Image: Louisiana Office of State Fire Marshal/Facebook)