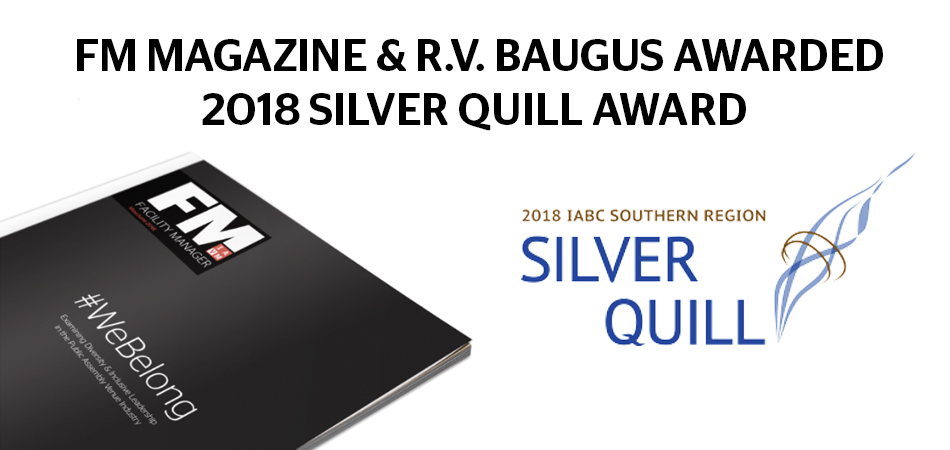 IAVM's Facility Manager (FM) Magazine and its Senior Editor R.V. Baugus have been announced as a recipient of the 2018 Silver Quill Award by the International Association of Business Communicators (IABC) Southern Region.
"It is a tremendous honor for a number of us who worked on this special issue of Facility Manager magazine to receive a Silver Quill Award," stated Baugus. "Diversity and inclusive leadership has been at the forefront of IAVM, and to have the magazine recognized in the Publications category based on this subject matter is very satisfying."
The Silver Quill is being awarded to Baugus for FM's May/June 2018 issue covering diversity and inclusive leadership initiatives within IAVM and the public assembly venue management industry. The #WeBelong issue was one of the highest talked about and praised issues in the publication's rich history for its lack of a cover image and unabashed look into the past and future of diversity and inclusion in our industry.
"Aside from it being my favorite Pat Benatar song, #WeBelong just made great sense as the hashtag to use on the cover, because we truly all do belong," explained Baugus. "It is also worth noting that our Director of Marketing, Amy Fitzpatrick, had the great idea that 'less is more' on the cover, and she suggested the black cover with the simple white type for #WeBelong. It really conveyed the message and importance of the topic and also happens to be the only cover in the 33-year history of the magazine to have only type on the cover."
Known as one of the most prestigious awards program in the industry, Silver Quill recognizes business communicators from throughout the IABC Southern Region. Baugus will accept the award on October 18, 2018, in Nashville, TN.
If you missed out on reading this award-winning issue of FM, you can CLICK HERE to view our digital issue.