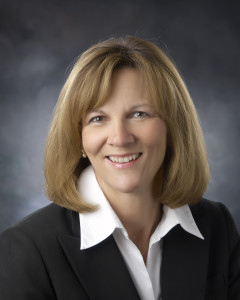 This week we spoke to Cheryl Swanson, CFE, venue manager and IAVM member since 1994, about IAVM's Senior Executive Symposium (SES), a program she has attended and for which she has acted as Board Chair. The window to apply closes in just 30 days, so we wanted to ask Cheryl why the program is an important addition to any venue manager's to-do-list.
Cheryl Swanson, CFE, is currently employed by the City of Grand Forks, ND, as the executive director of the Alerus Center, an indoor football stadium, arena and conference center. She worked in health care administration and marketing for 15 years before becoming the Bookings Manager for the Sioux City (IA) Auditorium, Convention and Visitors Bureau. From there she opened a new arena at Eastern Michigan University, eventually moving up the state to the Breslin Center at Michigan State University before working at the Alerus Center.
How did you get involved in Senior Executive Symposium (SES)?  What is your role now?
I accepted a role as Resource Member for the Board of Governors (BOG) when Lionel Dubay was the Chair. I was then elected to the Board, became secretary, Vice Chair and then Chair in 2011-12. I am the immediate past chair so I remain active on the board.
Which venue manager is most likely to benefit from SES? What level/role in their organization is a good fit for SES? 
All venue managers will benefit from the SES program. One of the featured sessions explores your management styles and how you relate to others. Both experienced and new managers will benefit from that knowledge and it is an immediate tangible takeaway from the program. While the program was originally tailored to the top two tiers of management in an organization, the program does accept applications from middle managers to assist in their current roles and prepare them for future career growth. Senior Executive Symposium is designed for any individual who aspires to transcend from a manager to a great leader.
What sets SES apart from other IAVM educational opportunities?
The unique relationship between IAVM and Cornell University allows access to Cornell's School of Hotel Administration which is the world's largest provider of hospitality courses. The curriculum focuses on topics such as Strategic Thinking, Diversity in the Workplace, Ethical Dimensions of Leadership and Negotiation Skills. Senior Executive Symposium shifts the focus from managing resources to leading people for optimal results.
What was your most memorable moment as an attendee?
I think, like most attendees, the cooking school becomes the most memorable event. It's unique in its concept, is hands on with an executive chef, creates an exquisite meal and is a fun time!
Do you still stay in touch with the other attendees?
Absolutely! SES allows opportunities to strengthen relationships both professionally and personally. Like most shared experiences, it creates a bond and memories to revisit at other IAVM events.
How does the setting impact the experience?
Cornell University and Ithaca, NY, provide the most beautiful, intriguing backdrop for this great educational opportunity. On a clear day, it is a beautiful flight into Ithaca, the hills, the gorge (be sure to walk to the gorge!), the historic buildings and the Ivy League feeling are all part of the experience. I've participated in two SES assessments to ensure the program provides the best education to IAVM members. In both cases, there was overwhelming support to remain at Cornell, as the association with a prestigious Ivy League school is a valuable asset and the environment cannot be duplicated anywhere else.
Where would you like to see the program go to really be meaningful to the future generation of Venue Managers? What do you see as being necessary skills on the horizon for senior executives in the coming years?
While patron safety will always be the number one priority in venue management, today's venue managers must also focus on technology updates and changing workforce dynamics while exceeding customer expectations. IAVM continually assesses its educational components to provide appropriate instructions for all members. SES will continue to provide the leadership foundation.
There has been a pervasive misconception regarding acceptance in the SES program. There are no pre-requisite programs prior to attending SES and you may enter the 3-year program at any year. Just apply today!
–––
We hope you'll take Cheryl's advice and register before the March 31 deadline. Register for Senior Executive Symposium today.