By Andra Bennett
A 20-year planned expansion of the Fort Worth Convention Center is finally underway. In August, fencing went up to signal the beginning of construction on Phase 1 of the project, which will deliver new state-of-the-art food & beverage facilities, demolition of an outdated 1983 annex, increasing the center's loading docks from seven to eleven, and realignment of Commerce Street to the east to create a site pad for a future convention hotel. This $95 million phase is expected to be completed in early 2026.
On August 9, a Convention Center District Town Hall meeting informed more than 300 downtown stakeholders,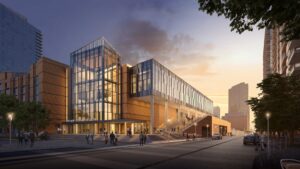 residents, businesses, and elected officials about the timing of specific construction activities, street and parking lot closures, traffic flow, green space, and infrastructure plans. The meeting was promoted by Downtown Fort Worth Inc. and included presentations by the Texas A&M System and the Omni Fort Worth Hotel, both of which are planning new developments on either side of the convention center.
"According to the State of Texas, Fort Worth's visitor economy generates over $3 billion annually and employs over 30,000 of our residents," Mike Crum, director of Public Events for the City of Fort Worth, told the audience. "This expansion will allow us to deliver an even more delightful experience to our guests and remain competitive with other Texas cities."
Texas A&M broke ground in June on its new Fort Worth campus, which will include an innovation and research facility, a law and education building and a gateway office building. It is expected to cost $340 million and be complete by October 2025.
The Omni Fort Worth Hotel, 26 steps from the convention center with 618 guest rooms, outlined plans for a new $200 million adjacent structure with an additional 400 guest rooms and 50,000 square feet of new meeting space. Opening is anticipated in 2026.
"Our development teams are very cognizant of the amount of construction that will be happening concurrently in this area of downtown and are in communication with each other and will remain in communication with community stakeholders who may be impacted," Crum said.
Andra Bennett
Marketing Communications / Public Events Department