New from Frank Supovitz & McGraw-Hill … "What to Do When Things Go Wrong," is now available for order. Supovitz, whose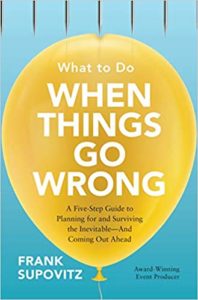 involvement with IAVM includes the Academy for Venue Safety & Security, is the CEO of Fast Traffic, LLC, and former NFL Senior VP, Events & NHL Group VP, Events & Entertainment.
The reviews are out with some notable figures touting the book, a five-step guide to planning for and surviving the inevitable – and coming out ahead.
"Together we've been through countless political campaigns, The White House, and raising two daughters. Each had its unique challenges. We wish we would've had this book through it all. t's genuinely applicable for every conceivable crisis; how to manage them, but more importantly, how to avoid them." – James Carville & Mary Matalin
"Supovitz's breezy, personable, and often provocative storytelling style brings to life the more sobering and valuable lessons of avoiding and planning for crises, and then managing them when they happen anyway. What to Do When Things Go Wrong is a necessary read for anyone managing projects or people." – Paul Tagliabue, NFL Commissioner, 1989-2006
For ordering information, click here.