The Baltimore Orioles announced a new initiative that will allow paying adult fans to take their children to home games free-of-charge.
Adults that purchase tickets in the regularly-priced upper deck area of the team's Oriole Park at Camden Yards can bring up to two children aged nine or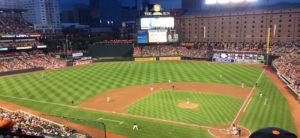 under for free, via the aptly named 'Kids Cheer Free' scheme.
Tickets are subject to availability and will be offered on a month-by-month basis as the MLB 2018 season progresses. Fans can now secure their tickets to games through April 29.
"Baseball is the bedrock recreational institution in American life, where childhood memories are born and family bonds are forever formed," Greg Bader, vice president for communications and marketing for the Orioles, commented to the Associated Press. "It is our hope that this unprecedented program will bring the magic of Orioles baseball to families from all walks of life and ultimately grow our game."
John Angelos, executive vice president at the Orioles, added: "The Orioles' mission, and that of the national game of baseball, is to cast a broad community outreach. That effort starts with thoughtfully expanding our initiatives benefiting kids and families. The Orioles are committed to sustaining the access for families from all walks of life to our great game, and that commitment is reflected in the Kids Cheer Free initiative and our many other family-focused programs."