By R.V. Baugus
Once again, IAVM members are answering the call in times of emergency, and today the biggest crisis throughout the world resides in the pandemic COVID-19 coronavirus. We are sharing below just a sampling of how our member venues are doing their part to assist in any means necessary to help others in need.
WE WANT TO HEAR FROM YOU IN TWO WAYS!
— Please send your story to rv.baugus@iavm.org so we can share with the membership. If you have a longer story to tell, we welcome those as well.
— IMPORTANT: Please send high resolution PHOTOS of at least 2MB or 2,000KB to me at the same email address. We would like to put together a compilation of stories told through photos, such as the one you see below from the Vicksburg Convention Center, for both the newsletter and the next issue of Facility Manager. We strongly encourage you to send those to us!
The Vicksburg (MS) Convention Center (managed by VenuWorks) team worked diligently this week to create CDC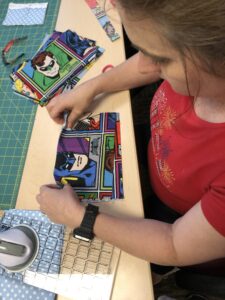 compliant masks to be distributed for the community, local medical outlets, and emergency responders. They brought sewing machines from home, donated fabric, and put their heart into providing this valuable offering. Their goal is to create at least 50 by week's end. The design of the masks display super heroes which goes along with the theme of the medical personnel out there working diligently to take care of many. – -Annette Kirklin, executive director
The United Center in Chicago announced that it would become a "logistic hub" for the city, state, and federal response to the COVID-19 pandemic. Both the arena itself along with the outside campus will be used in helping food distribution, first responder staging, and collecting medical supplies. "On behalf of the Chicago Bulls, Chicago Blackhawks, our athletes, our front offices and our dedicated United Center personnel, our thoughts and support are with the people of this great city and state. Together, we will get through this," the venue said in a statement.
The local emergency operations center in Asheville, NC, requested to use the Harrah's Cherokee Center as a point of distribution for supplies, materials and food packs. Additionally, they are today setting up a local COVID- 19 hotline for FAQs, etc., and utilizing the venue's box office phone system and staff to manage. — Chris Corl, general manager
The Louisiana Department of Health is using the Burton Coliseum Complex as a testing location. Presently, the testing operation is intended to serve a five-parish (county) region. The initial plan calls for testing to take place for the next two weeks or until they exhaust their supply of test kits. No fees will be assessed for this operation. In fact, the government agency that owns the complex (county government agency) authorized me to cover all supporting expenses, such as equipment rentals, signage, and meals. Lastly, our government agency committed to covering all fees for anyone tested without insurance. — Jason Barnes, director
Foodlink is utilizing the Floreano Convention Center in Rochester, NY, as an emergency food supply box packing center. — Meredith Howie, event coordinator
The Richmond (VA) Raceway is being used as a storage location as the county collects supplies and distributes them. We are not charging them for the facility usage. — Megan Hazzard, director of events
I have a group of 275 Volunteers ages 50 to 89. They are amazing people! Every other day I send them a message, a "how to" on how to get groceries delivered to their doorstep. I also send funny pictures of my grandbaby. Next, I will send training points by email that we can all keep adding to and engaging with. — Betsy Boes, FOH & volunteer manager, Luther Burbank Center, Santa Rosa, CA
The Convention Center Authority in Nashville announced a donation of $500,000 to the COVID-19 Response Fund on behalf of the Music City Center. The donation will support those in the hospitality industry as well as others in the community who are facing hardship due to the virus. Music City Center is making the contribution solely through its operating revenues. As we face these volatile and uncertain times, the one thing we can all do is find ways to support one another. We cannot predict when businesses will return to any degree of normality and want to offer help to our community of workers and families who have been furloughed or displaced. — Charles Starks, president and CEO, Music City Center