By R.V. Baugus
So, I kicked back on the couch Thursday night to watch the Dallas Mavericks play the Minnesota Timberwolves in a final NBA pre-season tune-up game at American Airlines Center when all of a sudden I thought, hey, I should be at this game!
Any other year my season ticket package would have indeed included this game, but as we all know this is not any other year. (As I write this we are literally 13 days from putting 2020 in the closet and never letting it out again … we usually count down to something exciting but in this case I am sure most of us are putting a big red "X" on every day we move past in this unprecedented and trying year and rid ourselves of this year.)
But back to the game at hand. Yeah, yeah, so it looked like the Mavs I have seen so often who lead big after three quarters only to see the opponent force overtime and go on to win in the extra period. Calm down, R.V., I tell myself. It is still just a pre-season game and the Mavs heavy lifters were on the bench at the end of the game in order to give the coaching staff an opportunity to see how other guys perform in crunch time.
I found myself more intrigued by what surrounded the court — tarps covering seats on the camera angle side, photographers set even further back from the baseline on the court, and reporters stationed in the mezzanine section. The real action begins on December 22 when the NBA begins its 2020 (barely)-2021 season. A number of IAVM members at NBA arenas took some time to visit with us about how their venue plans to deal with the onset of the season in a COVID-19 environment.
The first to hear back from was our very own Dave Brown, Chief Operating Officer and GM at American Airlines Center. "The Mavs have not made a decision on fans and we don't expect that they will for another week or so," he said. "Definitely no fans for our first preseason game."
The Mavs sent season ticket holders an email giving those people options on how to use their 2020-21 tickets, ranging from desiring to use all games to using a percentage of games to simply not using any games through a schedule that the NBA has drafted to so far carry into March. Of course, this will all likely remain fluid depending on where the pandemic goes.
Jamie Galileo, SVP Facilities LHMSE/Vivint Smart Home Arena, noted that the Salt Lake City home to the Utah Jazz will take on an in initial 10% capacity with seating in pods of four. Changes at the arena, obviously, are drastically different from when the NBA shut down after games on March 11 of this year, including 100% mobile food app ordering and pickup, going cashless, masks, signage, GBAC, and so forth. Safety measures are also in place for staff as well as team personnel including air filters, fogging, and social distancing. Galileo said the biggest change with the start=up to the season is what the eyes see — very few fans.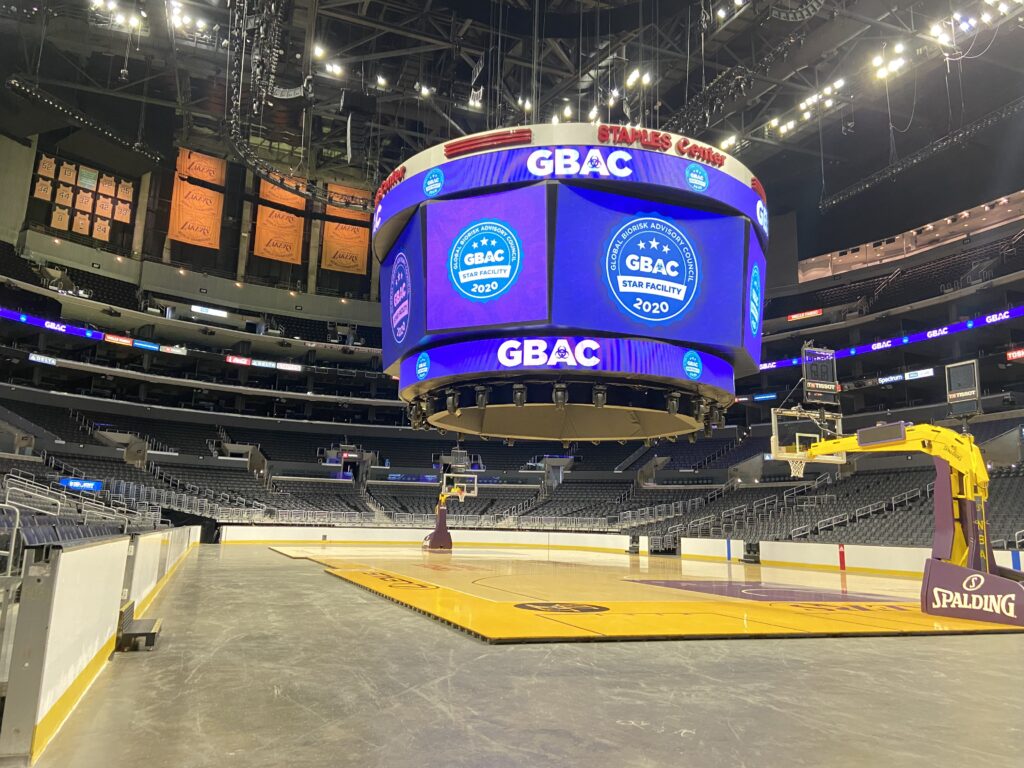 Few arenas in the world are as busy as STAPLES Center in Los Angeles. Lee Zeidman, President of the venue that is home to the World Champion Los Angeles Lakers, said the changes at the venue have been massive, although no fans will be present as the season tips off.
"We did a comprehensive top to bottom assessment of the venue and have replaced touch/contact points such as paper towel dispensers, toilet flush handles, faucets, soap dispensers as well as adding UV technology on escalators, NanoSeptic sleeves and buttons on door handles and elevator buttons," Zeidman said. "In addition, we will be all cashless when fans come back and we have added additional grab and go concepts."
When it comes to safety, Zeidman said that the venue as the first global arena to receive the GBAC STAR accreditation to ensure the ultimate in safety standards. The venue gladly showed its designation in the accompanying photo.
"We have also married up our venue A-Z protocols with the State/County and the leagues that play in our venue," he added. "These include increased sanitization, testing, contact tracing, PPE, etc."
The San Antonio Spurs expect to begin bringing fans back to AT&T Center around the beginning of the new year, according to Casey Heverling, VP/General Manager of Spurs Sports & Entertainment.
"While this decision will always be guided by the health data for our region, we are anticipating fans at our games right
around the new year," Heverling said. "The first couple home games will have family and friends in attendance. In order to adhere to strict socially distant seating clusters, we will be just under 20% capacity (just over 3,200 seats available) with seating clusters of two and four, mostly."
Heverling said that numerous changes have been implemented, with three main areas getting the most attention
"We focused our efforts in air, surfaces, and people," he said. "We have enhanced our air filtration and the amount of fresh air we bring into the arena. We have deployed devices that provide an added layer of air filtration through HEPA filters and Bi-Polar Ionization. We are disinfecting surfaces on a more frequent basis, using electrostatic sprayers and specialized UV disinfection robots. We have created a virtually touchless experience for our fans through technology upgrades including a new Wi-Fi 6 system, 5G cellular service, touchless concession ordering and mobile ordering capabilities through our Spurs app. Our staff will be specifically trained to help all fans stay socially distant and safe throughout their time with us. Masks will be mandatory the entire time, while not actively eating or drinking.
"Our staff and team personnel will be able to utilize many of the same enhancements and benefit from the building changes just like our fans. The big changes for our staff and team personnel comes from the planning and changes to layouts, providing the ability to remain socially distant wherever possible."
One of the biggest change at AT&T Center, as with all NBA arenas, will be the look inside the arena.
"Physically changing the environment for social distancing through signage, furniture removal, plexiglass installations, etc., is probably the biggest physical change," Heverling said. "The Wi-Fi 6 upgrade along with the 5G service improvements will be a long-term game changer for our fans.
From I-10 East from San Antonio the Toyota Center and Houston Rockets also prepare for a season by welcoming fans in a safe manner, said Hunter Segesta, Digital Marketing Manager. "Yes, Toyota Center will have fans to start the 2020-21 NBA Season. The first six home games are on sale now at Rockets.com. These are games from December 23rd through January 10th.
The Rockets welcome a maximum of 25% capacity with seats available in two- and four-person seating groups which must be maintained as a complete group with members of the same party. Maintaining the integrity of the seating group is applicable whether fans plan to attend the game personally or plan to transfer the tickets.
Segesta said that the Rockets and Toyota Center have developed these protocols and guidelines in partnership with the City of Houston, the Houston Venue and Event Task Force, Memorial Hermann, and the NBA:
* Reduced capacity will be enforced for Rockets games and all other arena events to allow for proper distancing between sets of guests.
* Ticketed fans will be required to answer a series of health questions before entering the arena. Fans seated in close proximity to the court will require additional league mandated testing protocols.
* Proper face masks will be required for ages 2 and up and must be worn at all times inside the arena, unless actively eating or drinking.
* No bags are permitted; however lockers will be available for rent.
* All tickets will be digital. Guests will manage and scan their touchless tickets through the Houston Rockets mobile app.
* To promote social distancing and sanitization, floor markers and signs promoting social distancing and hand sanitization stations will be placed around the arena.
* Frequent sanitization of all high touch surface areas during games and events such as seats, handrails, door knob, restrooms, countertops, etc.
* All staff will receive additional health and safety training. In addition, staff will also have their temperature checked and will wear appropriate personal protective equipment.
* All point of sales at Toyota Center will be cashless. Plexiglas barriers will be installed at all concession and retail stands to reduce direct contact between guests and staff. A touchless food and beverage ordering system option will allow fans to receive their orders at their designated seat to maximize social distancing and the overall fan experience.
"In addition, Toyota Center has also joined the Houston Clean campaign which was formed by the Houston Venues & Events Task Force along with local hospitality, tourism, and transportation industries," Segesta said. "Houston Clean is aimed at helping guests easily identify safety measures in place to protect guests and staff.
"As part of Houston Clean, Toyota Center pledges to maintain the highest standards of public safety and health. This includes becoming the latest facility to achieve GBAC STAR accreditation status. The GBAC STAR Accreditation program is the industry's leading outbreak prevention, response, and recovery accreditation for facilities."
The look and feel of being at the venue and watching basketball will definitely be different at first.
"Having games at a reduced capacity with our fans returning to Toyota Center in proper face masks with no bags using digital tickets and only credit cards for all point of sales will be different for many," Segesta said. "This ensures the highest level of safety, though, for our fans to return to Toyota Center this season. Rockets and Toyota Center staff have been hard at work to ensure a special, first-class live experience this year at Toyota Center. These new protocols are in place to create a safe, yet fun environment for fans. It has been nine months since we have seen our fans and we are so excited to welcome them back safely!"
Whether it is a venue such as Toyota Center welcoming back fans or one such as STAPLES Center and others that will do so at another time, there is hope on the horizon.
"It will be a long, dark winter but for the first time, with the approvals and distribution of vaccines, I now see light at the end of that long tunnel," Zeidman said. "In California/LA County, we do not have approval to host events with fans, but I now see the path that could get us to hosting with some capacity end of spring, early summer."
We can't get there soon enough, Lee!
(AT&T Center photo courtesy of Spurs Sports & Entertainment)
(STAPLES Center photo courtesy of STAPLES Center)