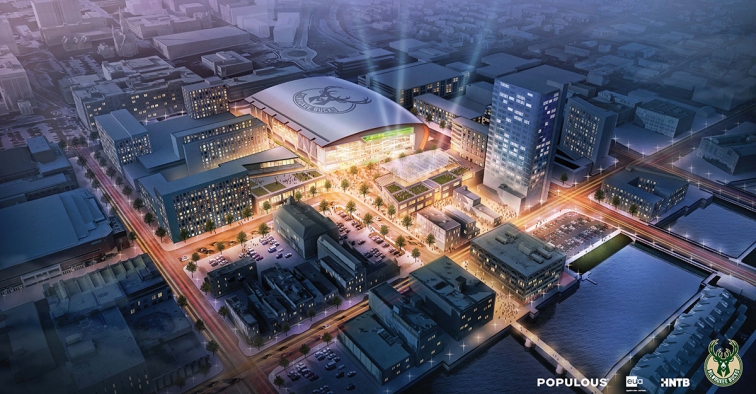 Gensler and Milwaukee, Wisconsin-based Rinka Chung are the team that will design the entertainment block adjacent to the Milwaukee Bucks' new arena.
"We couldn't be more pleased to welcome these two cutting-edge firms to our team as we continue to transform this portion of downtown Milwaukee and create a community gathering space that will attract year-round activity to the city," Bucks President Peter Feigin said in a statement. "We envision this space being a showcase for the best entertainment outlets that Milwaukee and Wisconsin have to offer and one that empowers local businesses to partner with us in revitalizing this portion of the city. We look forward to working with Gensler, Rinka Chung, and local officials to bring our ownership's vision for this space to life."
The entertainment block, spanning Fourth Street from W. Highland Ave. to W. Juneau Ave., will feature dining, entertainment, and retail businesses.
"This is a great project to revitalize downtown Milwaukee, anchoring the Bucks to the city and transforming the way residents interact with the area," said Lamar Johnson, regional managing principal with Gensler, in a statement. "We're thrilled this project affords us the opportunity to work with ICON Venue Group again, and we look forward to the excitement and changes to come from this landmark development."
The arena is expected to break ground in summer 2016.
"The Rinka Chung and Gensler team is proud to be selected for the Milwaukee Bucks Live Block project," said Matt Rinka, principal architect for Rinka Chung, in a statement. "Our partnership harnesses international expertise with a regionally-rooted, award-winning design firm. We wish to thank the leadership of the Bucks, ICON and the City for placing their trust in our experienced and talented team. In terms of defining the human experience of the arena district and the downtown urban environment as a whole, this is a monumentally key project for our region. Our team understands this, and we are well prepared to deliver an inspiring destination that our entire community can take pride in."
(Image: Milwaukee Bucks/NBA)