David Osterhout, known universally as simply Dave O, is turning in his keys after nearly three decades as the facility manager for one of America's largest meeting places, Houston First's George R. Brown Convention Center.
Osterhout, 69, retires on April 28 with a celebration joined by coworkers, clients, partners and many other friends. His first order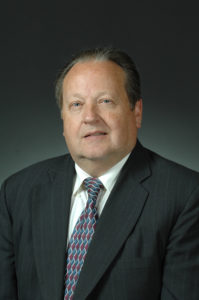 of business in the new life of leisure will be to head to his lake house north of Houston to gather with family, including his daughters and grandchildren.
"Dave O is irreplaceable. Someone will succeed him but nobody will replace him," said Luther Villagomez, Houston First's chief operating officer who opened the GRB in 1987 and has worked side-by-side with Osterhout since 1989.
"There is not one square inch, not one aspect of operation, in this convention center that Dave is not intimately familiar with," Villagomez said. "He has been the driving force in every capital project over the years and his input has been critical to the success of new construction projects and operational improvements.
"Dave is widely respected by colleagues in the industry, appreciated by our clients and admired by his coworkers. We will miss him."
Osterhout's tenure in the George R. Brown started when the downtown convention center had four exhibit halls totaling just 450,000 square feet. Today, the building has 1.8 million square feet under roof, including 770,000 square feet in seven exhibit halls.
He was integral in both the Phase II expansion in 2004 and the most recent Phase III renovation. Being a key liaison with the George R. Brown's construction partners as well as administering in-house partner contracts, Osterhout's keen insight and operational knowledge was unparalleled.
Osterhout was also a mastermind of operational efficiency. Through his guidance, the George R. Brown earned its original LEED certification in 2011, under the requirements set for existing buildings. To retain that status in 2016, the George R. Brown had to meet recertification criteria for energy savings, CO2 emissions, waste recycling and indoor environmental quality.
Not only did Dave O. manage every aspect of the GRB's operation, but he has also touched countless events. He was a warehouse of knowledge about the behind-the-scenes workings of large-scale events and kept their many moving parts on track. He was essential to the success of the massive Super Bowl NFL Experience in 2004 and 2017, Texaco Grand Prix, American Public Transportation Expo, and International Deli Dairy Bakery, just to name a few events.
Dave is a proud graduate of Purdue University, holding an associate degree in food service technology & design and a bachelor's degree in hotel, restaurant and institutional management. He was a general's aide in the U.S. Army before going to work for Aramark (previously known as ARA Services). His tenure at Aramark started at the Indianapolis Convention Center in 1973 as the assistant manager of food service and ended in 1983 as the general manager of food service at the Summit/Compaq Center. He had stops along the way at Houston's Astroworld, Astrohall, Astro Arena, San Francisco's Cow Palace Arena and London's Wembley Stadium complex, where he was the opening general manager.