By R.V. Baugus
Talk about a way to raise money! It is not necessarily unusual for a venue to auction off unused or unneeded equipment, but U.S. Bank Stadium in Minnesota raised more than $45,000 recently in such an auction.
The venue, owned by the Minnesota Sports Facilities Authority, and home of the NFL Minnesota Vikings along with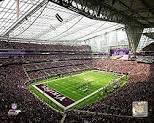 other major events, opened in 2016 and as recently as 2018 played host to a Super Bowl.
During this short life span, the stadium was saddled with some excess equipment, and what better way to produce some revenue than to invite the public to participate in an online auction.
The recent auction was a collector's dream with items such as hot dog rollers, cocktail shakers, and champagne flutes. The Minnesota Star Tribune reported that 106 individual bidders went away with items. In all, some 540 lots of surplus stadium equipment was up for grabs that also included a pitching mound and numerous concessions and catering items.
The auction proceeds of $45,815.60 are being split with items sold from concession and catering-related items deposited into a concession capital reserve account while proceeds from other items go into a capital reserve account.
"The public auction resulted in a total value of $45,815.60. The proceeds from the sale of the concessions and catering-related auctioned items will be deposited into the concession capital reserve account. The proceeds from the sale of the other auctioned items will be deposited into the capital reserve account.
Grafe Auction Company, a professional auctioneer from Spring Valley, Minnesota, handled the auction.