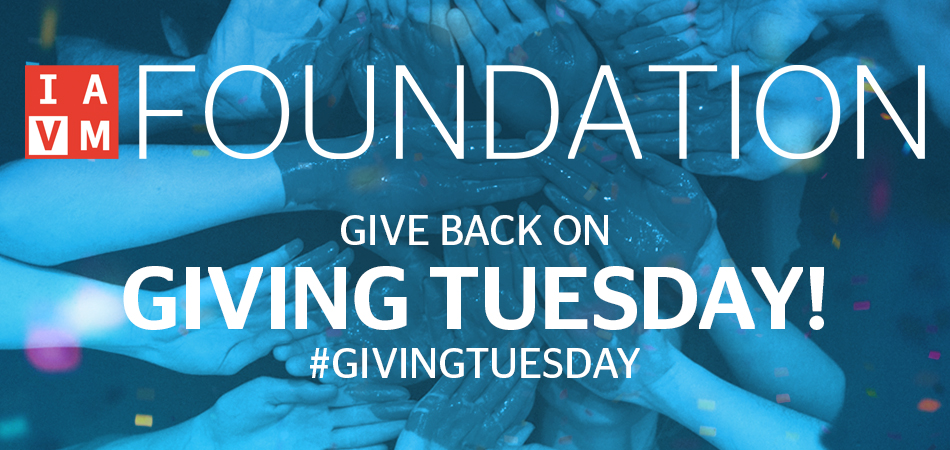 In this time of gratitude and thanksgiving, I am asking you to join me in supporting the IAVM Foundation on this #GivingTuesday. #GivingTuesday is an opportunity to solidify our industry by supporting the IAVM Foundation and their commitments. These commitments include those that help develop our future industry leaders. Programs like 30|UNDER|30 and other annual scholarships help bring these future leaders to industry events and aid in the their career growth. Your #GivingTuesday support is more than just a donation, it's a chance to make a difference in someone's future.
I am challenging us all, as part of the IAVM family, to give $25 (or more) to help us reach our goal of $5,000!
The challenge is simple…
Click HERE and donate! Any gift, no matter how much, helps your Foundation provide opportunities for industry development.
Challenge others! Simply copy and paste this message as your own challenge, or tag others on social media with the message – I accepted the IAVM Foundation #GivingTuesday challenge! Join me and make a difference too! Donate here! https://bit.ly/3x2OAAH
Anyone who donates $100 (or more) will also be entered into a drawing for a Samsung 40″ Series 5 Full HD TV! (Special Thanks to Bill Bavirsha at University of Illinois Chicago for that donation!)
Anyone who makes a monthly recurring donation of $10 (or more) will also be entered into the drawing for the TV! After you add your donation to the cart, you will be asked if this should be a recurring donation.
I wish you all a safe and happy Thanksgiving. I wish you time off to spend with your family and friends, though I know how that can go in our business. Still, there are usually days at this time of year when the schedule eases up, and I wish you wonderful rest of your holiday season
Thank you for helping me reach this year's #GivingTuesday challenge goal!
Jim Wynkoop, CVE
Chair, Board of Trustees