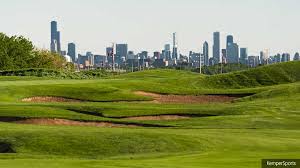 By typing the word Golf Tournament, a dozen people just stopped scrolling and mentally putted that dimpled white ball across a green oasis towards the tinking sound at the bottom of the cup…happy place found. So when I tell those golf enthusiasts that we are golfing in Chicago this year, they pencil in the date, click on the REGISTER link, and it's a done deal.
But what about You?
That twice a year golfer who likes the camaraderie of a tournament but hesitates to commit to time away from the conference you'll have taken time out of your busy schedule to attend. Well… here's why you should make time to join us.
It's for a good cause: this event is a significant IAVM Foundation fundraiser that allows us to fund Foundation programs such as the Joseph A. Floreano Scholarship & Internship Program and the 30 UNDER 30 Program and bring professional development opportunities to the IAVM members.
Facility Managers you need to meet and get to know better will be there. Industry professionals who are the backbone of what make our facilities great will be playing or sponsoring holes and give-always. This is a relaxed setting to make new acquaintances and it's geared towards making new industry contacts.
It's going to be an epic day…with a view of the Chicago skyline in the distance, we will be making the Harborside International Golf Center an extension of the city with Chicago Dogs, Capone-a-ritas, great food and of course, lots of chances to win golf fame and fortune with our contests.
So go ahead, stop right now and click the link to sign up to join us on sun day, July 21st for a morning round of golf with plenty of time to get back to the conferences evening events.
Join the fun, help the cause, and find your happy place with us in Chicago! Fore!!!!
Jenifer Johnson
The Golf Committee
*****Early Bird Registration Special – Register to play golf by May 15 and be entered in a drawing for a Scott Cameron Putter. Drawing to take place at the tournament.