The Hawaii Convention Center enjoyed some very good news in 2017, posting a profit of $1.1 million, which was a $2.8 million improvement against the budget and nearly double the net income of $605,200 achieved in 2016.
AEG Facilities is in its fourth year of managing the venue and has welcomed record financial results during that time.
The Hawaii Convention Center held 182 events in 2017, including 10 more offshore events in 2017 than the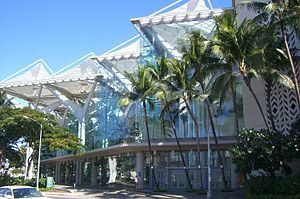 year prior, helping gross revenue to jump 9.5 percent to $17.6 million in 2017.
General Manager Teri Orton noted that the increases were in all offshore markets including association, corporate, international, and sports.
The center's occupancy rose five percentage points to 33 percent in 2017, a two-percentage point increase over the budget.
Sporting events continue to represent an opportunity for the center since its initial investment of $1.1 million in 2016 to convert 204,000 square feet of exhibition space into basketball, volleyball, and futsal courts.
The venue most recently secured agreements with three national sports organizations to host tournaments on the new courts, all of which begin this year. The portable sports courts can be configured to simultaneously stage up to 28 regulation volleyball or badminton matches, 18 high school basketball games or 11 futsal matches. The center also has a regulation NBA- and NCAA-approved basketball court with a solid wood floor.
Trending
Travel & Tourism
Hawaii hotelier Kelly Sanders announces departure from Marriott Hotels
Kelly Sanders announced Tuesday that he is leaving his post as area general manager of Marriott Hotels and Resorts Waikiki.
Career & Workplace
Mentors and mentees connect at PBN's Fourth Annual Mentoring Monday: S
Mentors on the left and mentees on the right take full advantage of the seven minutes given for each meeting at the Bizwomen Pacific Business News Mentoring Monday held at the Pomaikaii Ballroom.
Home of the Day
Bokbok Property
Sponsored Listing
The 1.1-million-square-foot center is funded by the Hawaii Tourism Authority, and has been managed by AEG Facilities since 2014.