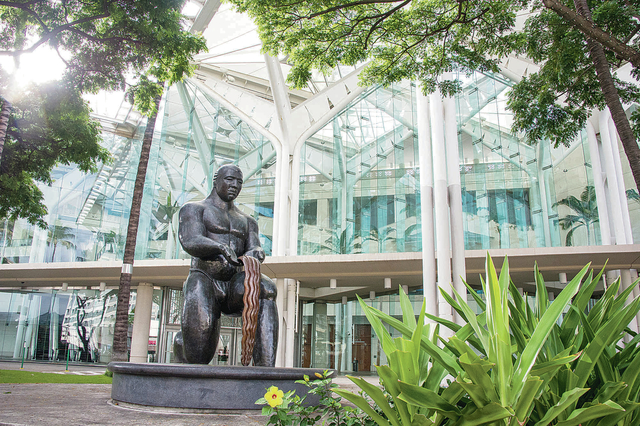 CRAIG T. KOJIMA / CKOJIMA@STARADVERTISER.COMThe Hawai'i Convention Center is on pace to end the year with its first profit since it was built in 1998. This statue, "The Water Giver," by Maui artist Shige Yamada, is on the Kapiolani Boulevard side of the center.
Article originally published in Honolulu Star Advertiser. By Allison Schaefers
The Hawai'i Convention Center is on track to achieve its first profit since opening in 1998.
Teri Orton, the convention center general manager, said the facility had $1.5 million in net income through September. Even with fourth-quarter seasonal lulls, Orton said the center should be able to hang on to a $14,000 profit.
"It's quite a feat. It's like turning the Titanic right side up," Orton said.
In January state lawmakers pressured AEG and the Hawaii Tourism Authority, which oversees the center, to cut losses and retire debt. Some lawmakers were surprised to learn how high the debt was.
The building cost $350 million to construct. HTA has made $455 million in principal and interest payments but still owes $297 million. HTA is paying 6 percent interest and has restructured the debt several times, tacking on extra years and interest. The debt won't be paid off until 2027 under the current repayment schedule.
Marc Togashi, HTA's vice president for finance, told lawmakers earlier this year the 2016 center budget included a $2.6 million operating loss. If the facility, instead, achieves a profit, it would put it ahead of a 2018 break-even goal.
HTA and AEG have been working to increase group business. Through September the state welcomed 384,121 group arrivals — a 3 percent year-over-year improvement. Now, AEG's challenge is to increase "citywides," the industry term for large events that spread business across multiple venues.
"While AEG deserves credit for what they are doing, I don't want anyone to think operating profits are the goal. Hotel room nights are what generate visitor spending and put people to work. They have got to raise the room-night bar over time," said Keith Vieira, principal of KV & Associates, Hospitality Consulting, who previously served on the HTA board.
Orton said the convention center is within 46 percent of its year-end goal to book 225,000 future hotel room nights — the number of nights hotel rooms are booked by guests attending convention center events. She said center staff must convert another 121,440 tentative bookings into actuals. Since most signings for future events take place at year's end, Orton said the center will offer bonuses for 2016 contracts.
"Our main purpose and goal is to bring business to our hotel partners," she said. "Achieving our room night goal will put us 12 percent ahead of last year. We'll keep increasing our goals."
During the first nine months, the center hosted 142 events; it is expected to finish the year with 184 events, up from 181 events last year. The center's food and beverage revenue hit a new high of $9.9 million through September. It's expected to reach nearly $11.3 million by year's end, a $2.6 million increase over its $8.6 million goal.
Through September, center occupancy was 32 percent. On average, occupancy at successful centers falls between 40 and 60 percent, Orton said.
Orton said the center hopes to draw from AEG's expertise in entertainment and sports, she said.
She ordered $1 million in new flooring so the center can convert its 204,000-square-foot exhibition hall into courts as needed to host amateur and pro sporting events from indoor soccer to volleyball, basketball and badminton.
"We've already got some really good leads, including one volleyball and two basketball tournaments, and some definite business for 2017," Orton said.
Since most large groups are booked five to 10 years out, Orton said it will take time to see the full impact of new strategies.
Jerry Gibson, area vice president for Hilton Hawaii, said the convention center's achievements are critical to visitor industry success.
"We build our base of business off of these conventions, which help us plan for next year's budget season," Gibson said.
Group travelers are coveted because they tend to spend more than leisure travelers, he said. A high percentage of group travelers bring friends and family with them for pre- and post-trips and return to Hawaii for vacations, Gibson said.
"They fall in love with Hawaii and come back," he said.