By Laura Portch
History is hoping to be made in Melbourne Friday night, May 3, when Collingwood take on Port Adelaide at (Docklands) Marvel Stadium.
As part of the 150th anniversary of Heinz, the iconic food brand has invited its partners to a birthday party with a difference by attempting to set a world record for the most people singing Happy Birthday at the same time.
Heinz partnered with Collingwood to become the "Official Sauce of the Hot Pies" earlier this year and also has an arrangement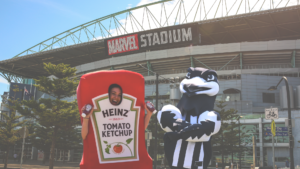 with Marvel Stadium to supply footy fans with a range of Heinz products.
Simon Laroche, CEO of Kraft Heinz, said, "One hundred-fifty years is a big achievement and we wanted to celebrate in a big way. Collingwood have the best sounding fans in the game and we are inviting them to try and make history with us."
Mark Anderson, CEO of Collingwood Football Club, said: "We jumped at the chance to get involved with Heinz' 150th Birthday celebrations. Our football club is 127 years old this year so we will look to get some tips on what to expect when we reach the 150 year milestone!"
Michael Green, CEO of Marvel Stadium, said, "We are really excited about the opportunity to set this new record. We're calling on fans of both teams to turn up the volume at Marvel Stadium this Friday night."
The mass singalong will occur at the end of the first quarter and MC Brody Young will lead the crowd in the record attempt. The Colllingwood players will also run through a specially created Heinz banner at the start of the game.
Laura Portch is senior account director at DEC PR in Sydney, Australia.