By Barbara Cosio Moreno
The San Diego Convention Center is modernizing its approach to signage solutions for meetings, conventions, and events.
Digital Conventions, LLC, has been selected as the Convention Center's official in-house service provider for digital signage. This new amenity will allow event organizers, advertisers, and sponsors to have a "turn-key approach" to High-Definition video advertising, wayfinding and announcements.
The Convention Center's Board of Directors voted to move forward with the partnership in October of 2018. The five-year agreement took effect on January 7, 2019. The signage is scheduled to be up and running by summer of 2019.
"This new partnership is just one more way we are improving the customer and guest experience at the San Diego Convention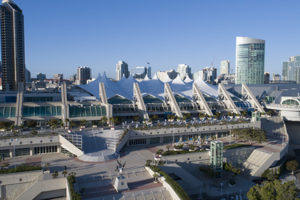 Center," said Clifford "Rip" Rippetoe, CVE, President & CEO of the San Diego Convention Center Corporation. "Our purpose is to serve as the region's premier gathering place, hosting trade shows, conventions, and meetings that generate economic impact for the San Diego region. Digital signage is something our customers and guests expect from us. It also meets our needs by serving as a new revenue stream for our facility."
The digital signage, which is slated to begin installation this spring, allows the San Diego Convention Center the opportunity to replace static signage, including banners, overhangs, and poster boards, with a modern, visually appealing, real-time messaging platform. Meeting planners can reach customers through a platform that is engaging and customizable in high-traffic areas. Digital signage also improves the Center's sustainability by cutting down on waste generated from paper and print signs.
Digital Conventions, LLC has been providing signage for the Walter E. Washington Convention Center in Washington, D.C. since 2010. Because of that, they have worked with more than half of the meeting planners who have events contracted at the San Diego Convention Center through 2022.
"We are very excited to implement a landmark integrated digital signage program at the San Diego Convention Center," said St. Elmo Crawford, President, Digital Conventions. "Our partnership will provide event organizers, sponsors, and advertisers new opportunities to inform and engage event attendees and guests. We are looking to create a truly immersive event attendee experience that will continue to raise the bar for digital signage within the conference and events industry."
The signage plan will include both static and portable LED videowalls. The main signage displays and will be located in four of the lower lobbies of the facility.
Barbara Cosio Moreno is Executive Director, Communications & Outreach at San Diego Convention Center Corporation.
For the full press release, click here.