The Hong Kong Convention and Exhibition Centre (HKCEC) has continued to be the preferred venue for international organizers staging world-class exhibitions and conferences in Hong Kong. During the fiscal year 2016-2017 (July 2016 to June 2017), a total of 1,102 events were held at the HKCEC, including 116 exhibitions and 104 international and local conferences, along with hundreds of corporate meetings, banquets and entertainment events. In total, over 5.7 million people attended these events. Eight new exhibitions and 36 new conferences were successfully held at the HKCEC. Over the year, Hong Kong Convention and Exhibition Centre (Management) Limited (HML) picked up 28 awards and certificates from international and local organizations, including the award for the "Best International Convention and Exhibition Centre,, the "Award for Excellence in Convention and Exhibition Facilities," and the "18 Districts Caring Employers 2016 Award."
Eight of the year's 116 exhibitions were new to the HKCEC. They represented industries as diverse as fashion, toys, cloud technology, automobiles,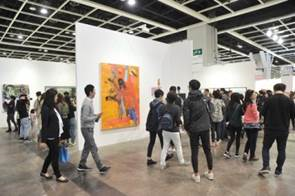 and technology for the elderly. The other over 100 exhibitions were recurrent trade and public fairs, including the 5th edition of Art Basel Hong Kong, the Hong Kong Book Fair, and the Hong Kong Electronics Fair.
The HKCEC's conference business remained strong over the year. Among the 104 conferences held at the HKCEC, 30 were international and 74 were local conventions, with a total of 36 new to the venue. The conventions were on subjects as wide-ranging as medical science, yoga, taxation, law, and waste recycling.
Other significant events held at the HKCEC during the year included Hong Kong phenomenon Rex Tso Sing-yu winning the WBO Asia-Pacific super flyweight title in front of 8,000 enthusiastic spectators. This was an important moment in his personal career, taking him to a winning streak of 21 matches. On another front, the Chief Executive Election held on 26 March at the HKCEC was brought to a successful conclusion due to HML's professional security, event planning and crowd management services.
A series of celebration activities for the 20th anniversary of Hong Kong's Return to the Motherland were held at the HKCEC from June 29-July 1. These included the Grand Variety Show, the Flag Raising, the Inauguration of the Fifth Term Government of the Hong Kong Special Administrative Region, along with fireworks display dinners and other activities relating to the visit of President Xi Jinping of the People's Republic of China. With a rich experience and expertise in handling high-profile events, HML's 950 permanent staff and an additional 1,500 temporary support staff successfully provided meticulous services in line with the strict security measures. Over the three days, more than 33,000 meals were served for attending guests, HML and Government staff members, contractors, as well as some of Hong Kong's top performing artists.
"Exhibition and event organizers coming to the HKCEC are not just looking for a suitable venue, but are expecting total event experience for exhibitors, buyers, visitors, attendees and guests, which involves bringing together security services, catering services, technological support and logistics," said HML Managing Director Monica Lee-Muller. "HML is fully capable to provide them with creative and comprehensive solutions."
Since the opening of the HKCEC in 1988, the HML team has hosted 46,460 events and welcomed over 103 million visitors. These events have contributed significant economic benefits to Hong Kong by generating spin-offs for tourism and other related industries, creating numerous jobs and business opportunities for small and medium enterprises, and enhancing Hong Kong's international image and reputation.