Hong Kong Convention and Exhibition Centre (Management) Limited ("HML") announced that with new joins and new structure, the 330-strong Food and Beverage team is ready to raise culinary and service standards at the Hong Kong Convention and Exhibition Centre ("HKCEC") to new heights. HML is the professional private management and operating company for the HKCEC, long recognized as Asia's best. During the year ending June 30, 2018, a total of over 2.4 million F&B patrons were catered for. They included guests to restaurants, concession stands as well as 355 banqueting events, the largest of which served close to 4,000 guests.
After the appointment of Paul Jeffrey Chandler as Director – Food & Beverage early 2017, HML added new positions and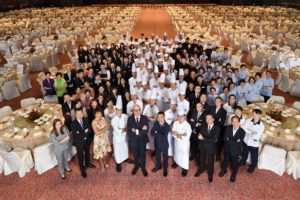 restructured the Division.
Richie Li joined HML as Assistant Director – Food & Beverage in March 2018. He assists Paul in overseeing Event Management, Catering Services, Stewarding and Restaurant Operations. Under Richie's leadership, Dicky Lam was promoted to Senior Food & Beverage Manager – Restaurants in July 2018. A new dedicated function accountable for food safety and hygiene has been created under Richie's supervision with Vincci Ho as Manager – Food Safety & Hygiene in July 2018.
The Western Kitchen was strengthened with Chef Bo Ip Sorensen's promotion to Executive Chef – Western Kitchen and appointment of Chef Christopher Wong as Executive Sous Chef – Western Kitchen. With increasing emphasis of desserts in banquet and restaurant menus, the pastry section head was upgraded to Executive Pastry Chef and Chef Ken Lee was appointed in May 2018.
"The creation of the new and upgraded positions and promotion of our high flyers reflects our commitment to delivering the best possible food and beverage services across all events, banquets and restaurants. With new inspiration and creativity and with long serving staff working together, the HML F&B Division are ready to advance further, set new benchmarks for the industry, and take HML's customer dining experience to the next level," Chandler said.