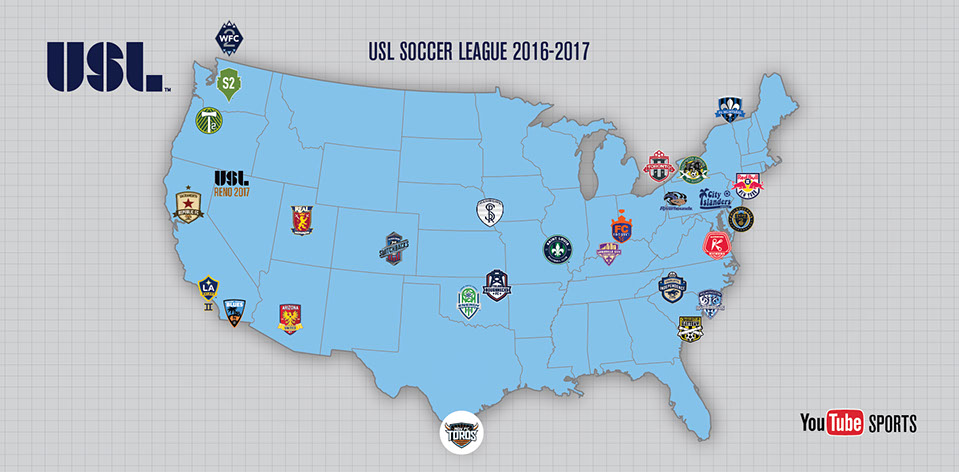 As previously mentioned, HOK and the United Soccer League (USL) launched a stadium development initiative to have all USL clubs in soccer-specific stadiums by 2020. At last week's USL Winter Summit, HOK announced they are creating a prototype 10,000-seat USL Stadium, which would be scalable for all clubs that wish to utilize it.
With 28 teams currently, USL is the largest soccer league in North America and has only continued to grow with a majority of the clubs averaging 4,000 to 6,000 fans per game during the 2015 season when overall league attendance reached one million for the first time. In addition to a partnership with Major League Soccer (MLS) where USL clubs serve as their minor league affiliates, the USL has grown from 20 clubs in 2014 to a committed 30 clubs for the 2016 season.
New USL stadiums should be expected in the near future in at least Louisville, Kentucky; Tulsa, Oklahoma; and Reno, Nevada; where those respective clubs currently play in minor league baseball stadiums. Joining in 2016 as an expansion team, Rio Grande Valley in Edinburg, Texas, is constructing its 10,000-seat stadium that is modeled after the Houston Dynamo's BBVA Stadium, its MLS affiliate.
Between MLS and USL, new soccer specific stadiums could be constructed in Orlando, Florida; Minnesota; Miami, Florida; Los Angeles, California; Sacramento, California; Louisville; Rio Grande Valley; Tulsa; and Reno; just within the next four years. I believe other markets such as Austin, Texas; Indianapolis, Indiana; and Cincinnati, Ohio; could be joining that list in the near future as well. That is quite a few new venues with new job opportunities for IAVM members.
"It's not a tenant in a building. They are in control of that venue, can brand and dress that venue and can control the revenue streams with that venue, and operate that venue for other events outside the game. That's huge. That's critical. That's when we start to reach a tipping point here." said Chris DeVolder of HOK " Looking ahead five years, I think the sky's the limit."
(Image: RGVFC.com)