A new, transformative solution now exists to meet the global demand for specialty coffee and customizable, on-demand experiences. Those working or attending any events at the George R. Brown Convention Center (GRB) in Houston will be able to enjoy their favorite java from one of the most innovative coffee solutions in the world. Houston First, which owns and operates the GRB, and its hospitality team powered by Levy, Houston Inspired Catering, have partnered with Austin-based Briggo to launch the first robotic, connected coffee service in Houston. ​
​
"We're excited to partner with Briggo and bring more smart and innovative products to Downtown Houston," said Luther Villagomez, chief operating officer of Houston First. "Adding a robotic Coffee Haus to the convention center adds a layer of convenience and elevates the visitor experience, which is always our number one priority."​
​
"We're thrilled to make Houston our first market outside our home base and deliver our gourmet, connected coffee experience to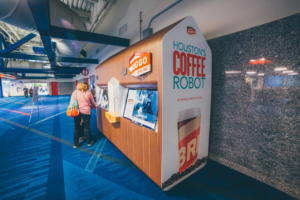 residents and global visitors," said Briggo CEO Kevin Nater. "Since launching Briggo inside Austin-Bergstrom Airport last summer, we have been overwhelmed with demand for our service. Houston is an epicenter for business and innovation and an obvious fit for Briggo. We are so pleased to be broadening our service with Levy Restaurants and the Houston First team."​
​
Briggo's Robotic Coffee Haus serves hot and iced coffee, lattes, cappuccinos, chai, hot chocolate, and other favorites 24/7 using gourmet whole-beans, fresh dairy and syrups. Customers can order ahead from the app, or customize their favorite drinks on the Coffee Haus touchscreens, and enjoy their drinks within minutes. The new Coffee Haus, located across from the Marriott Marquis Houston's skywalk, will serve guests visiting the GRB during all public and private events.​
​
"Technology like Briggo blends high quality service and memorable experiences, and that's what we strive to deliver to our guests," said Katherine Paynter Putnam, regional vice president for Levy Convention Centers, the team behind Houston Inspired Catering. "We've seen guests gravitate to the Coffee Haus in other spaces and it will be a great addition to the wide range of amazing Texas-raised food and beverage options at George R. Brown Convention Center."​
​
Named one of Austin's "Best Places to Work," Briggo's Houston location is the latest in their multi-market network of Coffee Hauses and their fifth opening since SXSW in March of 2018. In addition to Austin-Bergstrom Airport and Austin's Convention Center, Briggo operates inside three global tech firms, including two Coffee Hauses at Dell's Round Rock headquarters. The company plans to continue expanding their network of Coffee Hauses into airports, convention centers, universities, hospitals, and additional locations where 24/7, on-demand specialty coffee is essential. ​