By R.V. Baugus
The fresh images are now coming in more than 24 hours after Hurricane Laura arrived on-shore in Louisiana and caused major damage to the city of Lake Charles and throughout other communities. Six people have so far died in Louisiana, while in Lake Charles four IAVM members are represented at two venues, the Burton Coliseum Complex and the Lake Charles Civic Center, whose roof collapsed from the onslaught.
Just 12 hours or so before the Category 4 hurricane arrived, I was able to reach out by email to IAVM member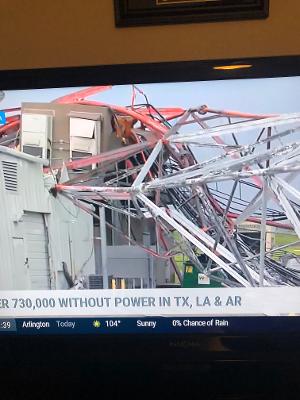 Jimmy Pottorff, manager of the Civic Center. As anyone who is preparing to experience a potentially traumatic event knows, it is often the anticipation and the build-up that is the hardest to deal with. In this case, everyone was fairly certain that this would be a major hurricane, and certainly Pottorff was among that group.
"Thank you for reaching out, we are staying at the facility as a staging area for emergency responders and public works. Ask me again about 3 am this morning how it's going … lol. We have prepared as much as we can; now comes the stressful hurry up and wait."
As we now know, by 3 am the venue did not resemble what it looked like just 12 hours earlier. To see dramatic video of the damage to the Civic Center, please click here.
Jason Barnes, Director of the Burton Coliseum Complex, shared on Thursday in the aftermath that he and his staff evacuated the day before as did his staff.
"From what I have been able to assess looking at pictures and video and talking to others, Laura was by far the worst hurricane to hit our area," he said. "This says a lot since Hurricanes Rita and Ike both impacted Southwest Louisiana in the past 15 years. Destruction is wide-spread. Thankfully, the storm surge wasn't nearly as bad as what was forecast, but the winds associated with this storm more than made up for it.
"Regarding our facility, I'm told that it held up well under the circumstances. I was most concerned with our coliseum, but from the outside the structure looks intact. There is damage to our other buildings, but not extensive. We're fortunate.
"Jimmy's facility took on considerable damage, based on what I have seen in social media. I'm trying to reach him to check in, but it's still difficult with communications out here. We're all thinking about him and his team over there."
Barnes' venue will now transition as a post-storm incident structure with the State operating the venue for search-and-rescue response and also working towards returning evacuees back to the community.
"Our electric utility provider, Entergy, has designated two of our largest parking lots to serve as the 'home base' for all electricians and support staff solely working to restore power to our area," Barnes said. "They will be bringing 1,000 line trucks, too. We will also be assisting State Farm as a fueling hub for all of their adjusters to utilize."
In closing, Barnes knows that he has friends in the IAVM family.
"Many thanks to our friends at IAVM for always being there for us in times like these."
We will be updating on Hurricane Laura and ask at this time for the IAVM family to keep all impacted throughout the country in your thoughts.
Photo: Devastation in Lake Charles, Louisiana.