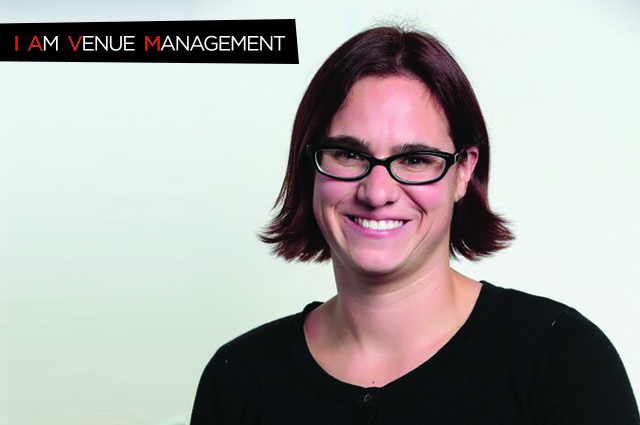 You, as an IAVM member, are our most important asset. Without your commitment to the association and to the venue management industry, we wouldn't be here. Because of your support, we are featuring member profiles in our I Am Venue Management series.
If I wasn't doing this I'd be a: High School Drama and/or English Literature Teacher.
Most impressive person I've ever met: I met Adam and Jaime from MythBusters backstage at work not too long ago. I spent a long time talking to them about building a t-shirt cannon for one of their upcoming live shows. That's probably my biggest "star-struck" moment.
I unwind by: working out at the aerial gym.
On my desk right now: are lots of toys. I have Legos, figurines, and an electronic cat bank. If anyone is ever having a bad day, I invite them to sit in my chair and use the cat bank. It looks like a cardboard box. When you put a coin on top of the box, a cat comes out and steals your money. It instantly makes any bad day better. I even have a stash of change specifically for use in the cat bank.
My favorite IAVM program/conference/event/session I ever attended was: Jason Robert's keynote speech at VenueConnect this year. His Build a Better Block program is amazing, and I found his whole approach to life very inspiring.
If I were on the other side out on the arena field concert stage I'd be an: aerial artist!
One trait an up-and-coming venue manager should have is: an eagerness to learn.
One of my goals for this year is to: help my department grow.
I plan to help elevate the profession: by always showing professionalism, patience, kindness, and humility.
Where do you see new growth opportunities in the profession? Technology is becoming more prevalent and constant in all our lives. I think we will start seeing more and technology incorporated in our live experiences. We, as an industry, need to embrace the prevalence of technology in our patrons' lives. I think we will start seeing more incorporation of their devices into our events.
How do you stay current with industry trends and developments? Read, read, read, read, read.
Who are three people you'd invite to a dinner party and why? Do they have to be alive? I would love to spend time talking to Andy Warhol, Salvador Dali, and Pablo Picasso. I would want to hear from each of them where they found inspiration for their art and what the meaning behind some of my favorites are. If they have to be living… I'd say David Sedaris, Agusten Burroughs, and Neil Gaiman. All three of them have stories to tell. I would sit and listen to them share.
Ashley Keen is the technical director/production manager at the Mesa Arts Center in Tempe, Arizona.
(Image: Orange Photography)