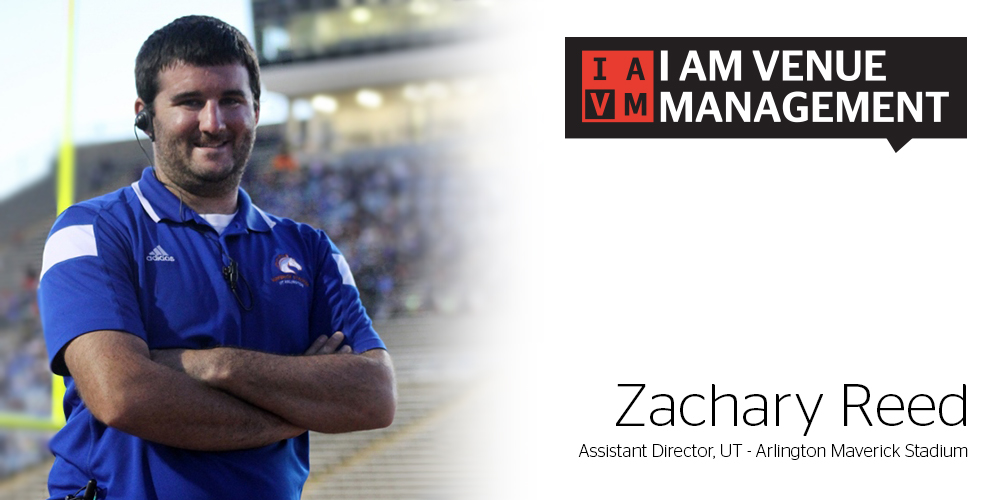 You, as an IAVM member, are our most important asset. Without your commitment to the association and to the venue management industry, we wouldn't be here. Because of your support, we are featuring member profiles in our I Am Venue Management series. If you are interested in participating in the I Am Venue Management series, please visit http://www.iavm.org/i-am-venue-management-share-your-story.
If I wasn't doing this I'd be an: electrical engineer.
Most impressive person I've ever met is: my stepfather. Our family lost him to lung cancer, and he taught me a life lesson of how to be an "upstanding citizen of society."
I unwind by: taking the free days to play golf or find time to travel with my friends and family.
On my desk right now is: a small golf bag holding pens that look like golf clubs. A gift from my fiancé to remind me that even through the tough days make sure you find the time to enjoy the little things in life.
My favorite IAVM conference I ever attended was: the 2015 VenueConnect in Baltimore. I am currently in the Mentor Connector Program, and I am really looking forward to the progression of this program. I am also looking forward to attending Venue Management School soon.
If I were on the other side of the seats, I'd be a: football operations coordinator.
One trait an up-and-coming venue manager should have is: patience.
One up-and-coming venue star in the industry is: Clara Poole recently with UTA College Park Center and now settling in with the Irving Convention Center. Clara has not only been a great friend but a young professional who shows a lot of inspiration and optimism.
One of my goals for this year is to: become a better manager, as well as, an inspiring leader to those I work with. Continue to give back to the community and industry who have helped me reach the level I am at today.
How do you plan to help elevate the profession? Continue to inspire young professionals to become more involved in our industry and how to be better prepared for local and world issues.
Where do you see new growth opportunities in the profession? In the types of multipurpose facilities that are being designed and constructed. This would include the continuing innovative technology of enhancing a "smart stadium," security and infrastructure, and customer-service programs.
How do you stay current with industry trends and developments? Touching base with connections that are currently implementing these trends and developments. Reading up on reviews and stories of who, what, when, why, and how these trends are improving or affecting our industry.
Who are three people you'd invite to a dinner party and why? David Beckham, Arnold Palmer, and Bill Gates. All of these great figures were very successful in each aspect of their industries. Success comes to everyone in different ways. Sitting down with them would get me to understand that there are different paths to take in order to achieve your goals and reach your ambitions.
Zachary Reed is assistant director of UT-Arlington Maverick Stadium.