The International Association of Exhibitions and Events (IAEE) has started a new interview series through CNTV with the first one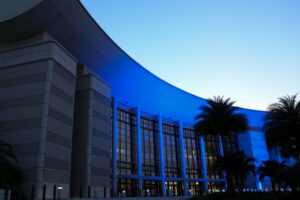 having debuted with IAVM member Mark Tester, executive director of the Orange County Convention Center. IAEE-TV's talk with Tester dealt with the convention center becoming a testing site for the COVID-19 pandemic.
To watch the IAEE interview, click here.
Pictured, the venue is proud to #LightItBlue in support of the healthcare professionals and first responders working tirelessly to help those affected by COVID-19. The blue lights will be on at the OCCC West Building (so as not to interfere with the COVID-19 test site at the North-South Building) throughout the week.