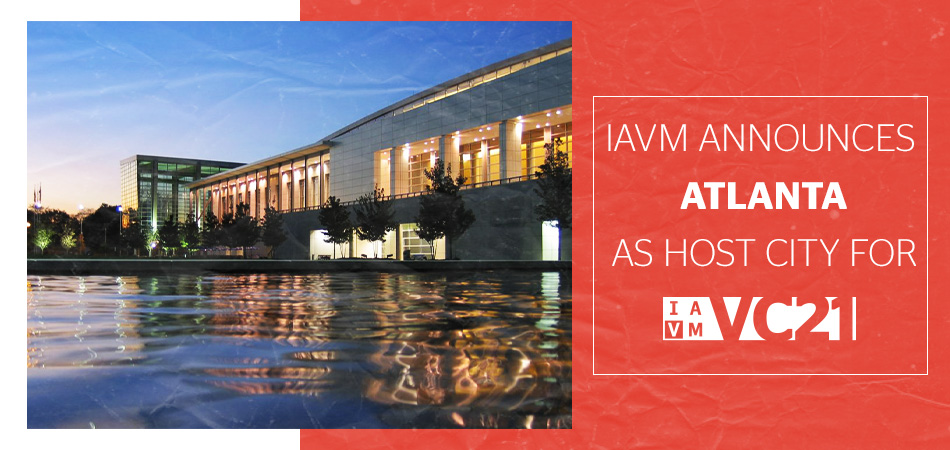 The International Association of Venue Managers (IAVM) is pleased to announce that it will hold the 2021 (August 3-5) VenueConnect Annual Conference & Trade Show in Atlanta, Georgia at Georgia World Congress Center. IAVM's VenueConnect is the leading industry conference that provides targeted education created specifically for more than 2,000 arena, stadium, convention center, performing arts center, amphitheater & fairgrounds, and college & university venue professionals.
VenueConnect 2021 will bring the conference and trade show back to Atlanta for the first time since 2002. Georgia World Congress Center Authority's (GWCCA) ever-evolving campus spans 220-plus acres and includes Centennial Olympic Park, the lasting legacy of the 1996 Summer Olympic Games, Mercedes-Benz Stadium, home of the Atlanta Falcons and Atlanta United, and opening in 2022, GWCCA's headquarter hotel Signia Hilton.
GWCCA, a self-sustained state agency, is entrusted as stewards of these state-owned assets, and has invested more than $360 million over the last decade to improve connectivity between its facilities and downtown Atlanta's surrounding hospitality district.
"IAVM is excited to bring VenueConnect 2021 to Atlanta," said Brad Mayne, CVE, IAVM CEO and President. "The GWCCA offers unique backdrops to the VenueConnect experience, but also access to the communities and venues that the Association serves for our attendees. Georgia World Congress Center will provide unique opportunities for our attendees to learn and network."
Atlanta will provide the perfect setting for attendees from all sectors, and GWCCA provides quick access. From State Farm Arena, home to the NBA's Atlanta Hawks, the Fox Theatre, College Football Hall of Fame, Center for Civil and Human Rights, CNN Studio Tours and more, conference participants will have many historic and cultural venue options to explore.
More information regarding VenueConnect 2021 will be announced at a later time at www.iavm.org.
About IAVM: Representing public assembly venues from around the globe, IAVM's 6,800+ active members include managers and senior executives from auditoriums, arenas, convention centers, exhibit halls, stadiums, performing arts centers, university complexes, racetracks, and amphitheaters. IAVM's mission is to educate, advocate for, and inspire public assembly venue professionals worldwide. More information about IAVM is available at www.IAVM.org or via @IAVMWHQ on Twitter.