By R.V. Baugus
IAVM's live training on safety and security, perhaps better known as "the Mark Herrera Traveling Road Show," was a huge success when IAVM's Herrera recently brought his Critical Incident Training to the team at the Tampa Convention Center.
The community-wide training brought a spotlight to the importance of safety and security and especially in the realm of suspicious activity.
"This training completely changed my perspective," said Kirstin Albert, Communications Coordinator, Tampa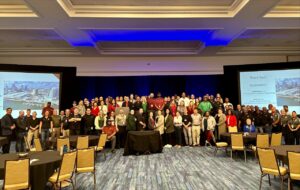 Convention Center. "Mark's approach to handling suspicious activity with a customer service approach was eye-opening and something I will certainly apply to real-life scenarios. There have been so many instances when I have seen something that didn't seem right, but I didn't know how to address the situation. Mark gave us the tools to know what to do in those scenarios."
Indeed, one of the major components of Herrera's training is to "keep one's head on a swivel" as best as possible and aware of all surroundings. Not only that, but that advice applies to everyone who works at a venue, not just a person carrying a safety or security title.
"I appreciated the reiterated message that security is everyone's responsibility, and not just on the security team," Albert said. "It made it impactful to all of us and helped unite the community in this mission."
Albert appreciated not only the practical hands-on teaching but was happy to see the local coverage that the training generated.
"Mark was also very engaging with his presentation and gave great examples to make the lessons memorable," Albert said. "He was effective at getting attendees involved and making information specific to our center.
"We had four TV news stations cover the event, so it was great publicity for Tampa Convention Center and the city and let the public know that we're committed to safety and security. Every venue should take part in this valuable training."