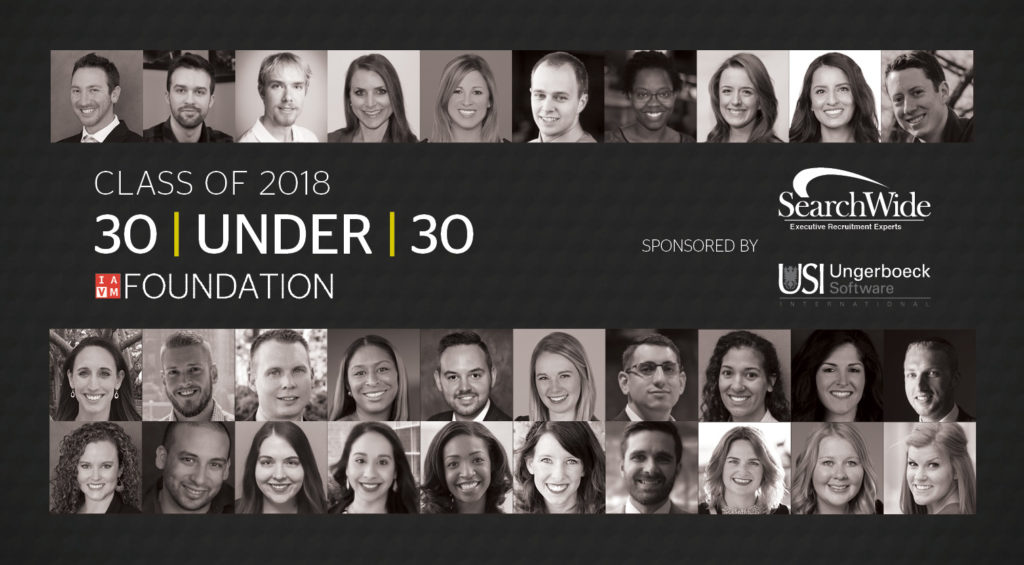 The IAVM Foundation has announced the 30|UNDER|30 Class of 2018. The program, in its fourth year, is made possible thanks to the ongoing support of co-founding partners SearchWide and Ungerboeck Software International, as well as many IAVM Foundation donors.
"There were many extremely qualified and worthy applicants this year," stated Kathryn Eades, IAVM Foundation Director of Development. "Tough choices were made by the Foundation's large group of judges, which included members from the Foundation Board of Trustees and numerous CVP's. Those chosen exemplify the characteristics of leadership and developing talent necessary to the future of our industry."
Designed to engage the best and brightest young professionals in the venue management industry, the 30|UNDER|30 program recognizes emerging leaders – and their talents – which help accelerate the industry and carry it into the future. The Class of 2018 will convene for the first time at IAVM's VenueConnect Annual Conference and Trade Show in Toronto, July 22-25.
Award recipients will receive full complimentary registration to VenueConnect, as well as an $800 travel stipend. They will also be provided opportunities for professional development in the venue industry to help better prepare them for continued career growth.
"As we embark on the fourth year as the founding partner, we continue to be proud of this program and thank IAVM for their commitment to it," said Mark Gnatovic, Senior Vice President of SearchWide and a Foundation Trustee. "The 30 individuals selected this year show remarkable leadership potential in the venue management industry. We are confident the industry will be excited to meet these young professionals and offer guidance and mentorship to them as they continue their career paths."
Meet the IAVM Foundation's 30|UNDER|30 Class of 2018:
Billy Langenstein, Director Event Services, U.S. Bank Stadium (SMG)
Matt Christine, Marketing Manager, SMG Managed Santander Arena and Santander Performing Arts Center
Jericha McGill, Event Coordinator, SMG/Cox Convention Center & SMG/Chesapeake Energy Arena
Jack Wentzell, Senior Operations Manager, Spectra Venue Management/CFE Arena at UCF
Megan Dennis, Patron Services Manager , Wintrust Arena
Carly Cuene, HR Generalist, Resch Center
Sarah Mathis, Senior Manager of Fan Experience, Jacksonville Jaguars- EverBank Field
Mevisha Maistry, Marketing and Communications Specialist , Shaw Conference Centre
Craig Spillman, Director of Food and Beverage, VenuWorks of Ames / Iowa State Center
Geri Koenig, Visual & User Experience Designer, San Diego Convention Center
Justin Carlson, Senior Event Coordinator, Minneapolis Convention Center
Meghan Foehl, Engagement Coordinator, Walton Arts Center
Kevin Murphy, Event Services Manager, SMG Tulsa/BOK Center
Andrew Landrigan, Event & Meeting Coordinator, Exhibition Place
Courtney Urquhart, Event Manager, EventsDC/Walter E. Washington Convention Center
Justin Brand, Operations Manager , Charlotte Harbor Event and Conference Center
Shannon Thomas, Event Manager , Walton Arts Center
Shelby Rich, Denver County Fair Event Manager/Complex Event Coordinator, National Western Complex
Kalyn Smith, House Manager, Indianapolis Symphony Orchestra
Zachary Sloman, Booking & Marketing Manager, SMG/John Paul Jones Arena
KelVon Greer, Events Services Specialist, City of Dallas/ Fair Park
Alexandra Capitolo, Event Manager, San Francisco Giants
Grant Jones, Operations Manager , SMG/INTRUST Bank Arena
Lisa Niess, Marketing and Communications Manager, U.S. Bank Stadium – SMG
Mario Duran, Operations Manager, Event Center at San Jose State University
Kaitlin Higgins, Venue Manager, Old Town School of Folk Music
Myra Palacios, Event Coordinator, Curtis Culwell Center
Andrias JW Murdaugh, Senior Event Manager, Events DC at the Walter E. Washington Convention Center
Taylor Hight, Senior House Manager, Walton Arts Center
Philip Costa, Director of Client Services, Baltimore Convention Center