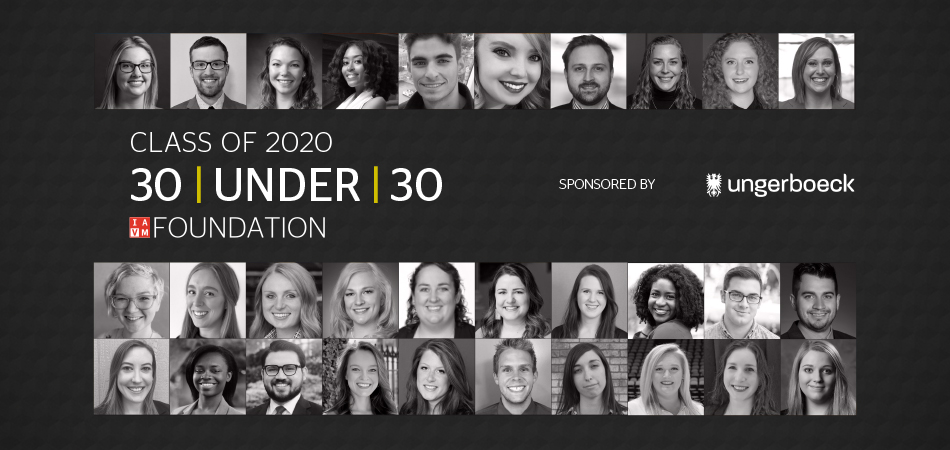 The IAVM Foundation has announced the 30|UNDER|30 Class of 2020. The program, in its sixth year, is made possible thanks to the ongoing support of Ungerboeck Software International, as well as many IAVM Foundation donors.
"The Foundation Board of Trustees, along with past award recipients, spent long hours making the selections for this latest class of winners," stated Adina Erwin, CVE, Chair of the IAVM Foundation Board of Trustees. "We thank all the candidates for participating in the process. Congratulations to the winners! We look forward to honoring you in IAVM's first-ever virtual celebration."
Designed to engage the best and brightest young professionals in the venue management industry, the 30|UNDER|30 program recognizes emerging leaders – and their talents – which help accelerate the industry and carry it into the future.
"The Class of 2020 will forever be remembered for the uniqueness of the year and for their hard work and passion as they continue to carve out their paths in venue management," stated Gina Brydson, IAVM Director of Membership and Interim Director of Development for the Foundation "Those chosen exemplify the vision and talent that will serve the future of our industry well."
Information regarding the virtual reception honoring the class of 2020 will be announced soon.
Meet the IAVM Foundation's 30|UNDER|30 Class of 2020:
Rachel Austin, Target Center
David Ax, Memphis Grizzlies
Samantha Bernheim, Virginia Beach Convention Center
Taylor Bradford, Walton Arts Center
Trevor Chesler, ASM-Tulsa: BOK Center and Cox Business Center
Kara Cox, Sprint Center-ASM Global
Tim DeMott, The Classic Center
Kayln Denniston, EventBooking
Lauren Falco, El Paso Live
Haley Fort, The Classic Center
Kathryn Gidluck, Vancouver Convention Centre
Marina Jaramillo, Spectra Venue Management
Emily Jensen, Tacoma Venues & Events, Tacoma Dome / Greater Tacoma Convention Center
Jacqueline 'Nicki' Kelsch, University of Texas at Arlington – College Park Center/Texas Hall
Sarah Kraynik, Donald L. Tucker Civic Center
Katy Lang, The Grand Theater
Shelby Looker, Spectra – Alerus Center
Brittany Martin, Cobb Galleria Centre
Jordan Racine, Venue Coalition, Inc.
Cesar Ramirez, Destination El Paso
Casey Redish, Spurs Spurs & Entertainment / AT&T Center
Zakiya Smith-Dore, University of Florida Performing Arts
Alex Soltero, Los Angeles Convention Center
Therese Spaseff, Charleston Gaillard Center
Alli Stangel, Portland Trail Blazers/Moda Center
Dave Straley, Stephen C. O'Connell Center
Jennifer Tuchband, Keen Independent Research
Hannah Turner, University of Wyoming Athletics
Haley Wentzlof, Butler Arts & Events Center
Kylie Wilkerson, Bridgestone Arena