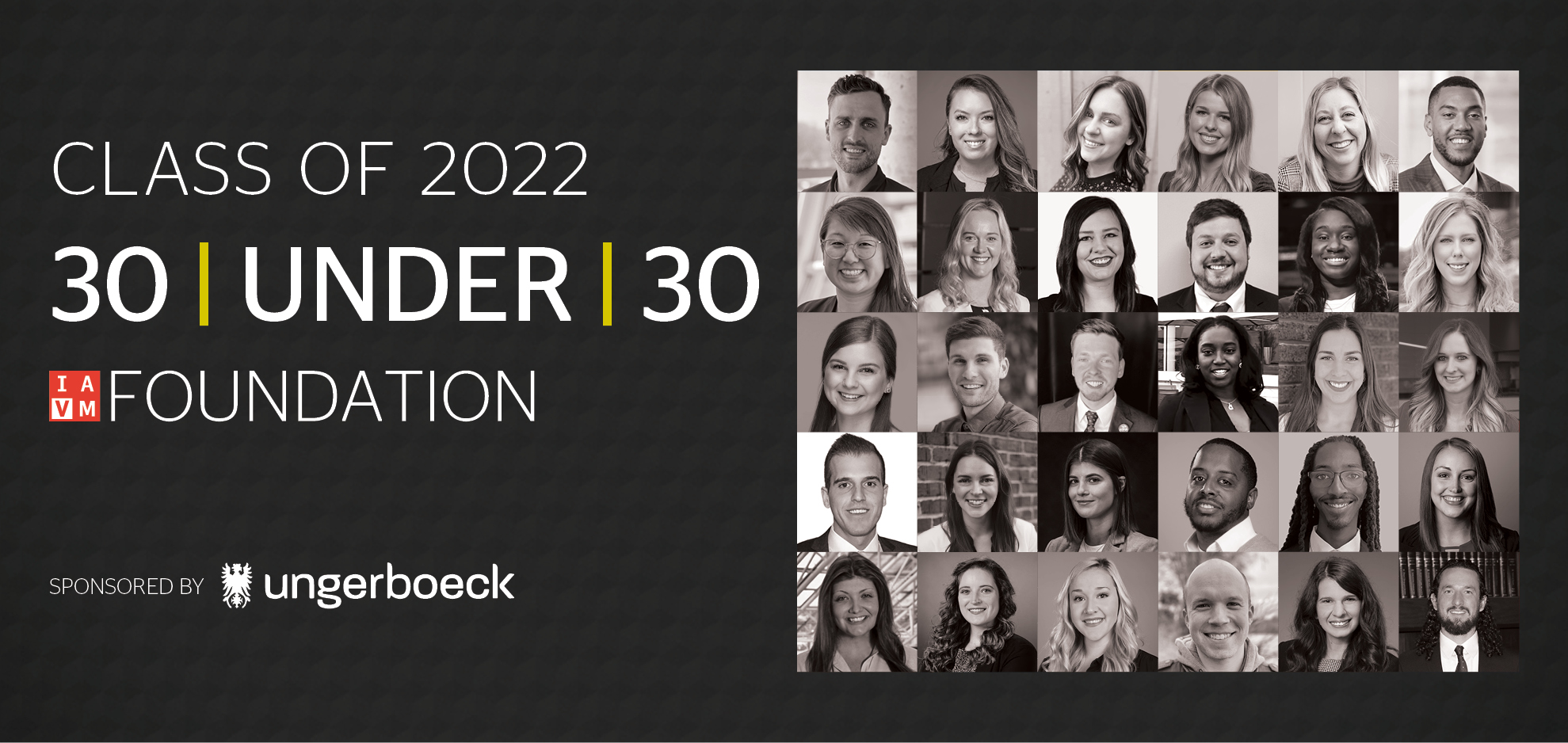 The IAVM Foundation has announced the 30|UNDER|30 Class of 2022. The program, in its seventh year, is made possible thanks to the ongoing support of Ungerboeck, as well as many IAVM Foundation donors.
Designed to engage the best and brightest young professionals in the venue management industry, the 30|UNDER|30 program recognizes emerging leaders – and their talents – which help accelerate the industry and carry it into the future. The Class of 2022 will convene at VenueConnect 2022 in Phoenix, Arizona, July 18-21.
"The 2022 class of 30|UNDER|30 winners emerged out of one of the most competitive fields we've seen," stated James Wynkoop, CVE, Chair of the IAVM Foundation Board of Trustees. "Over one hundered nominations were pared down to these thirty individuals. The program continues to generate a great deal of engagement with the future leaders of our industry. The IAVM Foundation thanks all the nominees, those who nominated them, and the support groups that helped them navigate the application process. Winning is impressive, and we have seen through all of those nominated that the future of IAVM will be in good hands."
Award recipients will receive full complimentary registration to VenueConnect, as well as a $600 travel stipend. Honorees will be recognized throughout the annual meeting and formally at the Venue Industry Awards luncheon.
Join your IAVM Foundation in congratulating the following to the 30|UNDER|30 Class of 2022:
Paul Ausman, Manager, Events Hosting & Sports Communication, University of Ottawa
Kelsey Garcia-Hayes, Manager, Programming, SoFi Stadium & Hollywood Park
Catherine Gruszka, Manager, Front of House and Volunteer Operations, The Bushnell Center for the Performing Arts
Emily Hamm, Director, Premium Service, Nashville Predators – Bridgestone Arena
Maddie Heywood, Event Manager, Utah Valley Convention Center
Jaylen Hinton, Event Manager, Walter E. Washington Convention Center
Renee Jung, Supervisor, Exhibitor Services, Facility Services, San Diego Convention Center
Chanelle Kildea, Sales & Event Coordinator, Optus Stadium
Alyssa Knoop, Marketing Account Manager, Venues, Edmonton Convention Centre & Edmonton EXPO Centre
David Lewis, Director of Events, Donald L. Tucker Civic Center
Simone Loftman, Event Manager, FTX Arena – Miami Heat
Jane Luneau, Director of Events, Liberty First Credit Union Arena
Maggie Miner, Events Manager, ASM Tulsa – BOK Center
Anthony Monteforte, Event & Meeting Coordinator, Exhibition Place
Phillip Oliver, Event Services Manager, Broadmoor World Arena
Sheneka Perrymond, Director of Restaurants & Cafe, Levy Convention Centers – George R. Brown Convention Center
Catherine Rainford, Booking Manager, Jerome Schottenstein Center
Shelby Revalee, Senior Sales Manager, Greater Columbus Convention Center
Eray Saban, Manager, Event Operations, ASM Global – Kai Tak Sports Park
Emma Schenkenberger, Director of Consulting, VenueOps, Ungerboeck, Inc.
Polina Selinevich, Director of Events, Alerus Center
Dorian Shelton, Manager Building Operations, Spurs Sports & Entertainment – AT&T Center
Jalen Thomas, General Manager, Technology Services, Smart City – Safe Credit Union Convention Center
Lauren Todd, Guest Services Manager, Climate Pledge Arena
Maria Tofalo, Conference Center Manager, Cleveland Metropolitan Conference Center
Amanda Watson, Manager, Event Operations, Atlanta Hawks – State Farm Arena
D'Elle Wendel, Event Manager, Spurs Sports & Entertainment – AT&T Center
Josh Wittmier, Director of Technology, Climate Pledge Arena
Erin Wylie, Guest Services Manager, Indiana University
Elliot Zalaznik, Director of Event Production, Hattiesburg Convention Commission
Register today and join us at VC22 in Phoenix to celebrate your nominees, colleagues and friends.