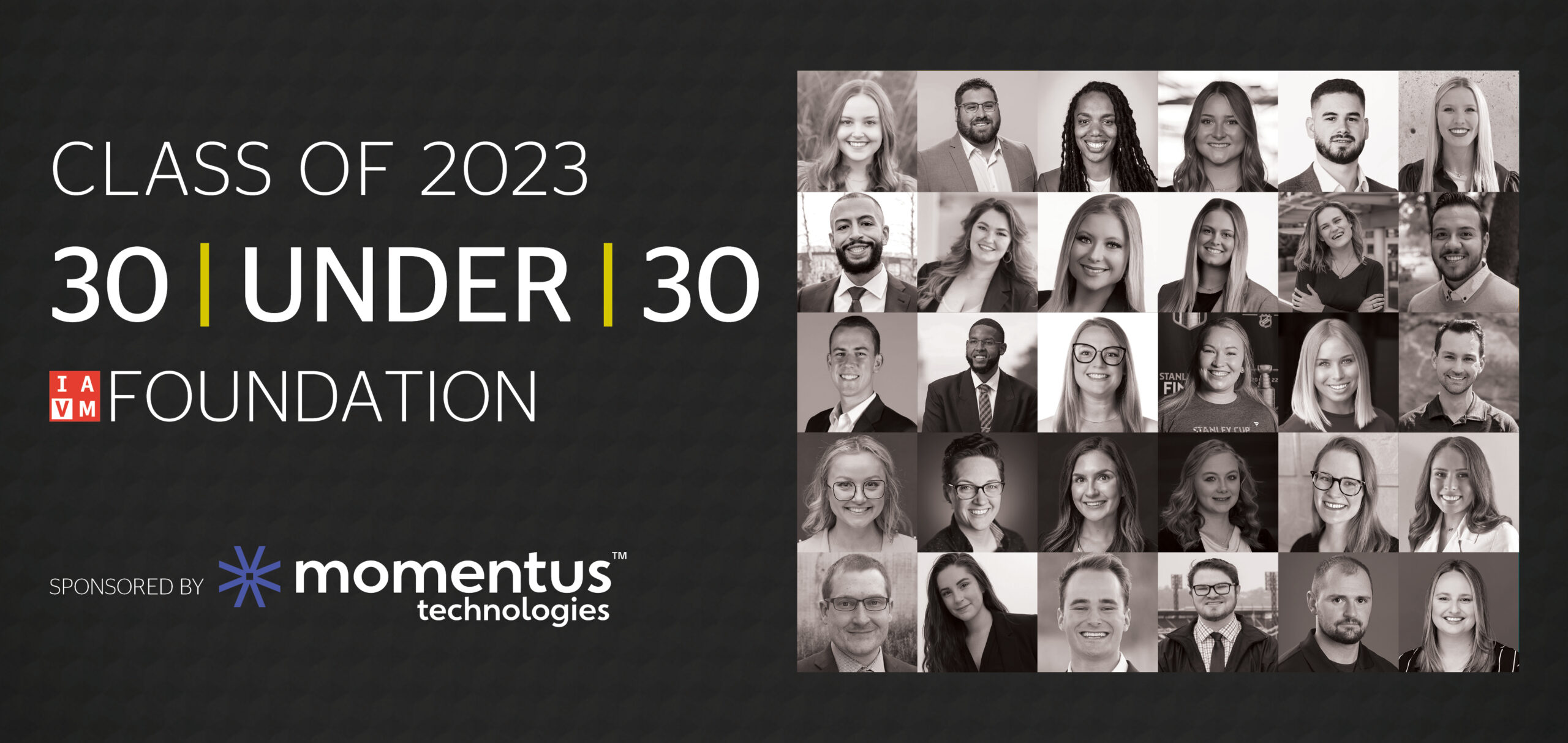 The IAVM Foundation has announced the 30|UNDER|30 Class of 2023. The program, in its eighth year, is made possible thanks to the ongoing support of Momentus Technologies, as well as many IAVM Foundation donors.
Designed to engage the best and brightest young professionals in the venue management industry, the 30|UNDER|30 program recognizes emerging leaders – and their talents – which help accelerate the industry and carry it into the future. The Class of 2023 will convene at VenueConnect 2023 in Pittsburgh, PA, July 31-August 3.
"This year's 30|UNDER|30 class was incredibly competitive with 143 nominations," stated James Wynkoop, CVE, Chair of the IAVM Foundation Board of Trustees. "The members of the Class of 23 are not only talented at what they do, but also able to communicate effectively in multiple formats. They have demonstrated both creative and critical thinking abilities. The IAVM Foundation is proud to announce this class of 30|UNDER|30 as one of the best in the history of the program. We'd like to thank all the nominees, the judges, and the members who nominated such a deserving group of young professionals."
Award recipients will receive full complimentary registration to VenueConnect, as well as four nights' accommodations at one of the conference host hotels. Honorees will be recognized throughout the annual meeting.
Congratulations to the IAVM 30|UNDER|30 Class of 2023:
Eveline Alford, Peel Compton Foundation
Zack Barletta, F&M Bank Arena/Sabertooth Sports & Entertainment
Shanna Benfiet, Rose Quarter
Abigail Bergman, The Classic Center
Carter Bondy, Niagara Falls Convention Centre
Kenzie Bush, BOK Center – ASM Tulsa
Ray Caraballo, Severance Music Center
Christina DeCoppi, Exhibition Place
Taylor Elliott, INTRUST Bank Arena – ASM Global
Kendra Foreman, INTRUST Bank Arena
Kat Guenet , Angel Of The Winds Arena – OVG360
Samuel Guerrero, Bryce Jordan Center
Daniel Healey, Indiana University
Ramsey Henderson, Kay Bailey Hutchinson Convention Center – OVG360
Abby Hunt, Landers Center
Adrienne Hutchens, Ball Arena, Kroenke Sports & Entertainment
Julia James, Venue Coalition
David LaVanne, FirstBank Amphitheater
Megan Lenertz, Alerus Center
Shannon Madden, Momentus Technologies
Sophia Mobayen, SoFi Stadium and Hollywood Park
Mackenzie Myrkle, Scheels Arena
Dani O'Callahan, The Bushnell Center for the Performing Arts
Ellie Oegema, Clowes Memorial Hall
Eli Schellinger, Mesa Arts Center
Kelly Schmidt, Gogue Performing Arts Center, Auburn University
Trevor Thomas, UBS Arena – Oak View Group
Nicholas Turgeon, PNC Arena
Travis Winters, ExtraMile Arena
Lindsey Zybrick, Jacksonville Jaguars – TIAA Bank Field
Register today and join us at VC23 in Pittsburgh to celebrate your nominees, colleagues and friends.