By R.V. Baugus
IAVM held a webinar this past Friday with representatives from the Centers for Disease Control and Prevention (CDC), U.S. Travel Association, and American Red Cross providing updates on the deadly coronavirus. The number of deaths and people infected by the virus change by the hour, with the below the latest information to share.
The Wuhan Novel Coronavirus killed 97 people in China on Sunday, February 9, and has killed 910 people globally since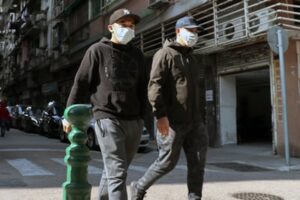 the outbreak began, according to authorities. More than 40,000 people have been infected. Since its outbreak in December, the Wuhan coronavirus has killed more people than the severe acute respiratory syndrome (SARS) outbreak, which claimed 774 victims globally from November 2002 to July 2003. There are 65 newly confirmed coronavirus cases on the Diamond Princess ship docked in Japan, bringing the total number on board to 135.
"We are taking aggressive, public health actions to contain the introduction of this virus in the United States to prevent spreading and other countries are doing the same," said Dr. Joseph Bresee, Associate Deputy Incident Manager, CDC. "The first case of this virus was detected in China in late December. The early cases appear to be with a local, live animal market indicating possibilities of its introduction from an animal source. Since that time, the virus has spread and caused illness in most parts of China's provinces."
Dr. Bresee added that the spread of the coronavirus to other countries has been predictable with 27 countries in Asia, North America, and Europe having reported a confirmed case of the virus, with no cases reported so far in South America and Africa.
"In the U.S., because of travel and trade with China, we predictably have had 12 cases reported in the U.S., but no community-spread or widespread cases," he said. "Confirmed cases have been in six states and we are continually updating this, looking at people and testing them.
"So, the global threat of this virus is high. The U.S. risk for people is low. What we do is look hard for cases. Travelers coming in from China within the last two weeks are funneled into 11 airports, where we have effectively and efficiently screened 2,000 people since mid-January. Those with illnesses are being check. Those who are well are being quarantined for 14 days and monitored closely depending on their risk assessment."
Dr. Bresee stressed that at this time the risk for the average American is low, but should not be ignored.
"We've go to be humble about this virus," he said. "It's a new virus and we're learning about it every day that is going to throw us curve balls. We do expect to see additional cases in the country, so don't be alarmed. If the risk changes, we'll let you know."
Greg Staley, Senior Vice President, Communications, U.S. Travel Association, said that while the outbreak has some travelers exercising more caution for destinations other than China that there are no warnings for travel within the U.S. or directed at anyone who has not been to China.
Staley talked about the different travel scenarios with the coronavirus and the Severe Acute Respiratory Syndrome (SARS) pandemic that appeared in China in 2002.
"There is frequent recollection back to SARS and I think one of the points that has been questioned of U.S. Travel is how it relates to that particular situation in terms of visitation to the United States from China," he said. "There was an approximate 30 percent decline in visitation to the U.S. from China back then, but the fact is China was a very small source market to the U.S. at that time but today is one of our largest inbound markets to the U.S. It's in the top five and more than three million visitors come to the U.S. from China. It very much has our attention and the attention of everyone in the venue industry since there are many Chinese travelers who attend conferences, events, trade shows, and the like.
Staley said that his organization is in daily contact with colleagues at the CDC as well as the human service agency at the White House including the President's Coronavirus Task Force.
"We are also in close contact with the U.S. airport community," Staley said. "As noted, there are 11 airports receiving the flights from China and those flights have diminished because demand has been low. We have provided collective feedback from airport authorities to the CDC on information that they were requesting that goes beyond travelers to and from China. They are asking for information just for general travelers as well."
Staley said that while several major North American carriers have suspended air service from mainland China to the U.S., the best counsel for travelers is to take the same steps for healthy travel habits.
"They are the personal best practices right now that are standard for the typical flu season, including frequent washing of hands, etc.," he said. "Maintain those practices."
Brad Kieserman, Vice President of Disaster Operations & Logistics for the American Red Cross, cited his 30 years in crisis management and lauded the work of the CDC in managing the current public health crisis.
"The mission of the American Red Cross is to prevent and alleviate human suffering in the face of emergencies by leveraging the power of the generosity of our donors," he said. "The first thing you might ask yourself is, 'Is this an emergency?' The answers is that the CDC has declared a public health emergency. Right now any of us are in the prevent part of that mission. We have actively engaged in planning and waiting for the Department of State, CDC, and other municipal partners for what may happen if there is an increase in the disease.
Kieserman said that while the Red Cross deals frequently with relief efforts from natural disasters that this outbreak is not any different in that the goal is to respond, and that part of that response is mass care. Yet, he said, there are differences.
"Operating a congregate sheltering environment for a natural disaster concurrently while there is an epidemic or pandemic in progress … that's a bit of a different animal," he said. "We're going to have in place protocols and procedures and guidelines we develop with the CDC and public health officials to make sure that we can provide safe and sanitary congregate sheltering and minimize the risk of infection that will include screening and will include isolation procedures in other facilities."
Dr. Bresee was asked from a webinar participant about what people should do sanitize.
"Do what your mom told you to do," he said. "Wash your hands. When you're sick, stay home. If you want to go to work and you're sick, don't go. And if you get to work and you're sick, go home. The guidance now is really the guidance for any respiratory virus that is spread person to person. It's to do those things. The other thing I will add is to get your flu shot. Don't be mistaken for a coronavirus patient, so get your flu shot now."
Additional resources may be found at the following:
Centers for Disease Control & Prevention