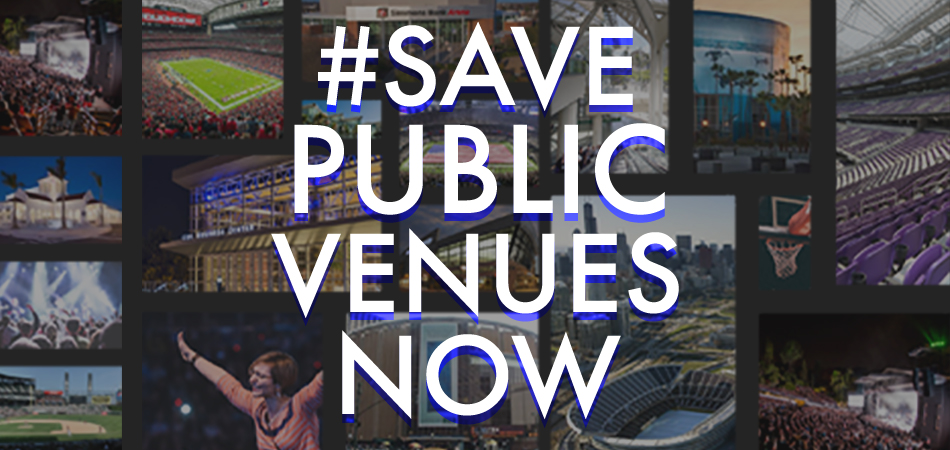 IAVM is launching a new advocacy media campaign for ALL of our venue members. As we move into the holiday season we want our venues, performers, guests, and the elected officials who represent us to talk about the live events they will miss most this holiday season. An "our favorite things" campaign will highlight the loss of joy these many holiday events bring to our communities, performers and guests alike. Elected officials at both the state and federal level need to understand how important local venues are to the communities they serve.
Earned media – via stories reported in local TV news and newspapers, letters to the editor and opeds, are the most impactful way to get the attention of lawmakers. We challenge every venue to work with your local media, chambers of commerce, local elected officials (mayors, city managers, etc) and even your guests on this campaign.
The social media component is important as well. If we work together, we can successfully highlight the fact that closed venues need federal and state assistance. Congress needs to act now.
Sample social media messages for IAVM members:
Some of our favorite things about the holidays – live events and our guests. Congress, we need your help now so we can bring back live events, including our most cherished holiday events in 2021.
What we will miss most – our annual production of the Nutcracker. Congress we need your help to bring it back for 2021.
What we miss most this holiday – our annual Disney on Ice show. Congress, help us so we can bring back live events in 2021.
This holiday season won't be the same without our annual production of the Christmas Carol. Congress, don't be a Scrooge, help us bring back our holiday tradition in 2021.
While no jingle bells will be playing or choirs singing, our Christmas spirit remains – Congress, feel the Christmas Spirit and help bring back our Christmas traditions in 2021
Missing our annual (name of fundraisers) that brings some much joy to (recipients of fundraisers) – Congress help us bring back our annual (name) for the holidays in 2021.
We're thankful for our guests and live events. We miss both. Congress, please pass COVID relief now so that we can remain afloat during this difficult time and safely re-open when appropriate. #SaveLiveEvents #CongressActNow
Social media messages for local officials:
This Thanksgiving we are grateful for all that XXXX (fill in the venue) does for our community even during a pandemic. We need you back, hosting live events again. Congress pass COVID-19 relief for live events and venues. #SaveLiveEvents #CongressActNow
We are missing live events this holiday season and can't wait until the XXXX (fill in the venue) reopens at capacity. In the meantime, they need the help of Congress. Pass COVID-19 relief now. #SaveLiveEvents #CongressActNow
You can find the email contact information and Twitter handles for your Senators and U.S. Representatives congressional members in the IAVM toolkit.