By R.V. Baugus and Events Industry Council
IAVM member Chance Thompson, senior manager of sustainability and public relations at the Salt Palace Convention Center in Salt Lake City, is honored with the Sustainability & Corporate Social Responsibility award by the Events Industry Council (EIC) at its Hall of Leaders & Pacesetter Awards September 10 at the Mandalay Bay Resort in Las Vegas.
Each year, the EIC recognizes dynamic and inspirational professionals for their passion, innovation, and dedication to the Global Events Industry. These individual are nominated and determined by a Selection Committee for their legacy impact.
The Pacesetter Award also highlights the exemplary things individuals have done, but focuses on those up-and-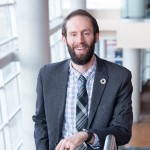 coming in their careers. These people have shown innovation, impact and vision in their careers, and their charge has made the industry a better place.
The EIC's description of Thompson and his work in the area of sustainability gives great insight into why he was chosen as one of four special recipients of Pacesetter awards.
Even as a young boy, Chance Thompson had a love for nature and the outdoors, and he felt he had a duty to protect the Earth.
Fast forward to today, and Thompson has successfully begun a career in sustainable events – and he has plenty of ambition to keep sustainability at the forefront of the events industry.
Growing up in the country-side of Missoula County in Montana, his middle school teacher motivated him to protect the planet, even inspiring him to become a scientist one day. But when he and a couple of close friends started a production company in college, Thompson quickly fell in love with event planning, too.
For Thompson, that did not mean having to let go of his dreams for a greener Earth – it simply meant he could combine both passions. The result? A remarkable career that earned him the 2019 Pacesetter Award for Sustainability and Social Responsibility.
Thompson considers working with such innovative professionals a privilege and is super excited to share this award with fellow industry leader Desiree Knight. He is thankful to SMG at the Salt Palace Convention Center and Mountain America Exposition Center and their Green Team partners at Visit Salt Lake, Utah Food Services, and PSAV for their passion and support to sustainable events.
Throughout his career, Thompson has placed emphasis on community, helping Salt Lake hospitality have positive contributions to community organizations through trade show materials. The Salt Palace's new brand experience, You Are Here, will also feature diversity and inclusion.
"It's important for minorities to be brought up to an even playing field." Thompson says. "That's how you build a better planet – one where everybody has a seat at the table in creating a future that works for any and all."
The practice of sustainability has come a long way, but Thompson says that there is plenty of room for growth, including in the encouragement of zero-waste events, a replacement for carpet on trade show floors and the reduction of carbon emissions from air travel.
Thompson believes that we have the capability to increase sustainable practices, but he preaches that teamwork is a vital part of the process. He encourages people to inspire one another and stay positive, because some of the best lessons come from people, not just those you interact with every day, but others in your industry.
"Wear your heart on your sleeve and show your passion," Thompson says. "The most important part of sustainability is us, and it's critical to work together to get things off the ground. For our Green Team partners in Salt Lake, it has made us better hospitality partners and more sustainability businesses."