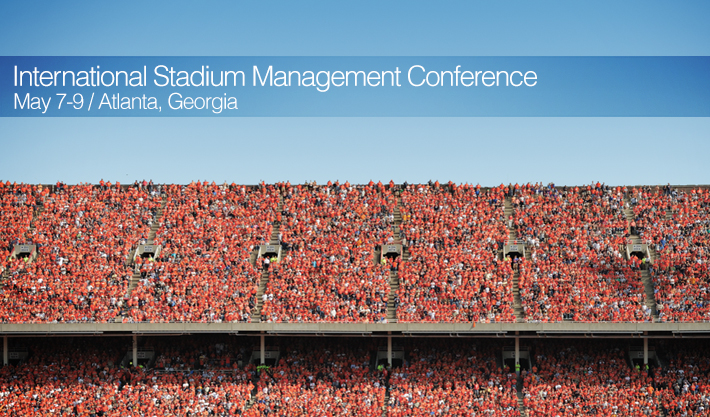 Our International Stadium Management Conference is upcoming, taking place in Atlanta, Georgia, May 7-9. This is a great opportunity for stadium and racetrack  managers to meet together, learn from one other, and make new connections.
Over the weeks leading up to the conference, we'll have many of the presenters and organizers offer their thoughts about the event and why you should attend. Up first is Nate Hayden, director of business operations at the Fiesta Bowl.
Why do you feel it's important for managers to attend this conference?
The past few years, the conference has been held online utilizing the webSITE format. The past conferences were effective and feedback from members was positive, but obviously the committee is particularly excited about bringing the meeting back on site, and what a better location than Atlanta with the Georgia World Congress Center and the Georgia Dome as our hosts.
The educational value of the conference is top-notch as it is, yet greatly enhanced when all the stadium professionals in the room have the opportunity to add their expertise through feedback, sharing personal experiences (the good and the bad), best practices developed at their stadiums, etc. The industry is unique in that all IAVM members, Allied members, colleagues, peers, experts, etc. are willing to openly share information among each other. That is our greatest resource.
What's one topic or session that attendees will benefit from and why?
I am personally excited for the session on event and facility command center operations. This panel discussion will present case studies/best practices/examples from member buildings and their events as well as current issues and opportunities followed by a question-and-answer period with the panel. Again, there is so much to be learned simply from our colleagues sharing information—operationally from event managers, structure and life safety tactics from law enforcement and EMS partners, technologically from practices in monitoring social media to opportunities for security observation, just to name a few. I think this session will offer numerous "take-homes" from the experiences and expertise presented by the panel and the attendees.