IAVM member Neil McMullin, Senior Vice President, Shared Services, with Fern Exposition & Event Services, has been elected to serve as president of the Exhibition Service & Contractors Association (ESCA) following the organization's most recent Winter Meeting in Las Vegas.
"Neil brings a level of expertise, passion, and insight to ESCA that will help continue our mission and support the exhibitions industry," said Larry Arnaudet, Executive Director of ESCA.
McMullin has worked in the meetings and events industry as a general manager of convention centers, conference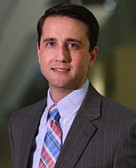 centers, arenas, and performing arts venues in various locations throughout the U.S., working for a private-venue management firm. He graduated with a degree in facility and business management from BYU. He is responsible for Fern's field operations including quality control and the implementation of best practices in order to ensure a consistent delivery of high-quality services and products. McMullin also oversees all graphic design and production as well as technology services and carpet operations.
"I look forward to continuing to advance ESCA's contributions to the industry while serving with the board and staff as President this year," McMullin said. "We are a dedicated group that is passionate about the industry and the impact we create for our members."
IAVM congratulates Neil on this deserved appointment!