By R.V. Baugus
With the 2022 mid-term elections over (well, almost over: hello, Arizona, Nevada, and Georgia), the public assembly venue world can once again look back with pride at the civic role many of our IAVM member venues played as hosting sites for their state's citizens to place their votes.
We all remember how in 2020 during the beginning of the COVID-19 pandemic that many IAVM venues served as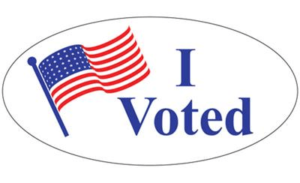 voting sites, many with restrictions such as drop-off voting to ensure the public's safety from the raging coronavirus. What many may not know, however, is that a large number of our members have for years served as voting sites, a responsibility not taken for granted.
"As a county-owned facility, we have been a polling and election site for many years," said Harrison Williams, executive director of the Washington County Expo in Brenham, Texas. "Doing prep for elections is pretty straightforward for us as we just have to place signage saying we are a polling site and identify how far from the building political ads and protests can be from the entrance to the building."
As Williams said, there are indeed governmental restrictions that come with serving as a polling venue, with signs of course being one of those. When you went to vote (and we KNOW our members indeed did that!) were you confronted with a dizzying array of signs as you pulled up to the venue? That comes with the turf, of course, but once again as Williams noted even these signs must meet certain restrictions with where they may be placed and just how close to the venue they may be staked into the ground.
"Gas South District has traditionally been a voting site for almost 30 years," shared Robyn Ali, assistant general manager of that venue in Duluth, Georgia. "Since our County was looking for more locations for early voting this year, we booked it in our Arts Center instead of blocking out the space in the Convention Center. Voting typically takes place in our Convention Center but half of the rentable space is under construction right now."
So, even when a venue such as Gas South District faces the challenge of ongoing construction it is not enough to stop a tradition that has taken place for almost three decades. A little maneuvering into the arts space of the venue and — presto! — bring the voters in!
Major kudos go to General Manager Jim Finch and team at the Charlotte Harbor Event and Conference Center in Punta Gorda, Florida, which has been a voting site since the venue opened in 2009. This year, of course, saw the city and surrounding area pummeled by Hurricane Ian. Even that monster hurricane was not enough to deter the venue of being ready for its citizens to come vote.
"The Supervisor of Elections also does poll worker training at our venue, too," Finch said.
To all IAVM member venues who served as voter sites, thank you! See you in 2024.