It's 9 o'clock on a Saturday … regular crowd shuffles in. –Billy Joel, Piano Man
OK, so it was 9 am and not 9 pm, although Billy Joel's hit from 1973 does not actually indicate morning or night. And this regular crowd did not shuffle "in," since the "in" was still outside the yet-to-be-completed Coppell Arts Center.
Still, on the morning of August 10, the public was invited to a steel signing ceremony for the new venue slated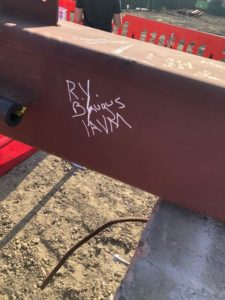 to open in May 2020. Under a very blazing Texas sun, guests got to don hard hats to take a tour into the portion of the venue that is actually enclosed under the guidance of Managing Director Alex Hargis. Others, meanwhile, enjoyed fruits and pastries while enjoying some cold water or hot coffee.
Markers were set aside for all guests to put their names on a giant steel beam that was later raised into place.
The event first included a private reception for local dignitaries, resident art group members, and Coppell-based business leaders who have worked closely on the project. In true performing arts fashion, artists played a mini-symphony before appreciative guests.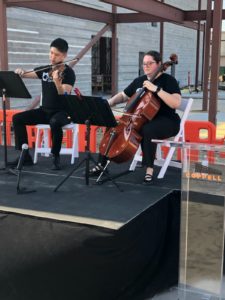 "Topping out ceremonies are typically attended by a small group of key stakeholders," Hargis said. "But for this venue, we truly feel every Coppell citizen is a stakeholder who has played a part in making this dream a reality, which is why we wanted to extend the invitation to the entire community."
Long-time IAVM member and performing arts friend Jack Hagler, Schuler Shook, took in the event and recalled that one of his earliest projects was just a few miles down the road with the Irving Arts Center.
It was brought to Hargis's attention that of the 6,800-plus members, he just might win the title of IAVM Member Whose Venue Is Closest To World Headquarters.
"I've thought about that," he said. "That's a pretty cool thing."
So is the Coppell Arts Center, even if we have still yet to see the final look for the venue that will be home to Coppell artists, fine art exhibitions, performing arts, education classes, touring arts, nightlife entertainment, community events, corporate meetings, and more.