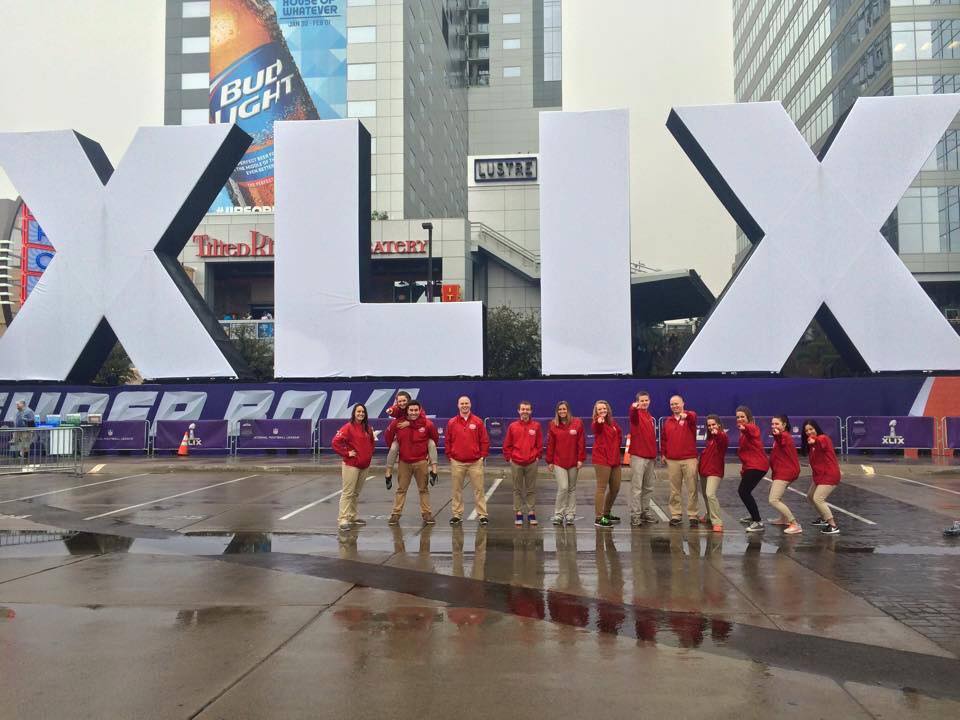 Congratulations to the group of IAVM student members from Missouri State University who worked at the 2015 Super Bowl at the University of Phoenix Stadium.
"Throughout the weekend, students worked mainly in an area called Super Bowl Central," Melissa Price reported. "They greeted guests as they entered and provided information and directions. They also had the chance to be involved with some of the free concerts and really enjoyed the performance of the Roots from The Tonight Show with Jimmy Fallon."
Troy Parrott said they split up in pairs and went to different street corners.
"Some of us had to use clickers to keep track of people walking in and out of certain restaurants, because they filled up quickly," Parrott said. "While the rest of us were handing out maps to fans and mainly directing them to the NFL Fan Experience, bathroom, convention center, etc."
Working at the Super Bowl is an annual event for the school's Entertainment Management Association, and Price said this year "the students worked with NFL Fan Experience, the National Football League's official source for event experiences and hospitality, as well as the Arizona Host Committee."
Please visit Price's blog entry to learn more about the students' experiences, and once again, congratulations on a job well done!
(Image: Missouri State University)