By R.V. Baugus
The following appeared in the May 9 issue of The Republican, the newspaper in Springfield, Massachusetts, regarding IAVM long-time member Wayne Coleman. Wayne happens to be a favorite personal friend of mine, and it is an honor to share his story below. By the way, Wayne said that his first pitch at the Atlanta Braves'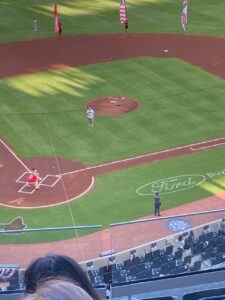 baseball game "short-hopped" mascot Blooper. One of the very few "E's" we can put on your baseball scorecard, Wayne.
Piping Up
Pregame ceremonies for the Atlanta Braves' home opener on April 9 included a rendition of "Amazing Grace,"
played by Wayne Coleman, a bagpiper from Springfield.
As he played the pipes, Coleman stood in center field, in front of a "44" sign that had been cut into the turf in honor of Hank Aaron, the National Baseball Hall of Famer who died on Jan. 22 at the age of 86. Aaron
wore No. 44 as he played 23 seasons in the major leagues, 21 of them in the Braves organization.
Coleman, a graduate of Springfield Classical High School, is a third-generation bagpiper. His father, Harold Coleman, and his grandfather, James Coleman, played in the Springfield Kiltie Band, which was established in 1917 and is still active.
"This marks my 39th year as a piper and my 12th time piping on the field at a Braves game. Professionally, I've piped coast to coast," Coleman said. He played the bagpipes in accompaniment to Faith Hill when she sang the National Anthem at Super Bowl XXXIV in 2000. "That was quite an audience for a piper, or any
performer," Coleman said of the Super Bowl.
He has been performing professionally in Atlanta since 1983. Wayne plays his father's pipes, a set of Lawries with traditional army turnings He has the original receipt from Glasgow in 1937.
He began music lessons at the age of 5 and studied classical, popular, and jazz piano through high school. He continues to take bi-weekly pipe lessons and attended two summers at the Balmoral School of Piping and Drumming.
Now a resident of Stone Mountain, Georgia, Coleman is a Braves season-tickets holder and has served as
president of the Atlanta Braves booster club. His love of baseball goes back to his teen years, when he served two summers as batboy for the Springfield Giants of the Eastern League.