By R.V. Baugus
Public assembly venues aren't the only targets for violent attacks — either from terrorists outside the United States as well as homegrown terrorism. And while security is a staple at public assembly venues along with other recent targets including nightclubs, schools, workplaces, theaters, malls, and more, there is one place where the presence of security might still feel awkward, and that is at faith-based venues.
The most recent involving a significant death toll happened November 5, 2017 in Sutherland Springs, Texas, during a worship service. The shooting left 26 dead and 20 injured at First Baptist Church but was far from the first church shooting in the United States. More than 91 people have been killed in at least 22 church-related shootings since 1999, with at least 8 shooters then killing themselves also, for a total of 99 dead, according to a compilation by AL.com.
Further, in 2017, church security expert Carl Chinn compiled a database of deadly force incidents at faith-based organization in the United States – a deadly force incident being defined as any attack, suicide, suspicious death, or deadly force intervention. His database started in 1999 and covered 1,705 incidents in which 617 victims died, not including suicide victims or shooters killed in action).
With the Religious Conference Management Association (RCMA) in Irving, Texas, for its annual conference and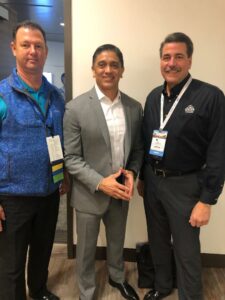 trade show, IAVM Director of Education/Life Safety Mark Herrera presented to a faith-based audience on the topic of "Increasing Observational Capabilities: Exceptional Focus, Performance & Control in Extreme Situations," at the Irving Convention Center.
Churches, seen seemingly forever as safe havens from danger, sadly are not any longer. To assume so merely enhances the odds of dire consequences at some point.
Herrera pointed out that it is a wrong answer for anyone at a faith-based venue to say that the responsibility for security belongs to an individual carrying that title. The responsibility for ensuring that a house of worship belongs to everyone within its walls.
"If you are exposed to crisis, you better be equipped to help deal with it and help others," he said to open his session before a room of rapt listeners.
Terrorism existed before 9/11, but it took that tragedy to bring the matter of safety and security into a very clear light and stir organizations into action to protect lives and assets.
"It was an awful incident," Herrera said about 9/11, "but there really was something good to come out of it. Sixty terrorist plots have failed since 9/11. There are domestic counter-terrorism tools now put into place since 9/11 that have helped stop terrorists from operating on U.S. soil."
Herrera pointed out the naivete in thinking that all terrorist plots come from abroad. He noted that there have been 60 Islamist inspired plots against the homeland since 9/11, with 49 considered homegrown terror plots.
For churches without a security and safety plan, the consequences could be devastating in terms of injuries to persons, damage to property, loss of revenue, higher insurance premiums, and loss of reputation.
"More people today want to feel secure where they go," Herrera said.
Technology also plays a role in violent activity, where Herrera said that extremists utilize encrypted messages in social media to plan and plot attacks.
Herrera stressed the importance of taking action, whether that is reporting someone to an authority, or, in an unexpected event of someone opening fire, having a ready plan to act to counter force with force or at the very minimum to have an exit plan that is known in advance. He showed a video where a backpack was intentionally set on a Las Vegas street and was walked around by passersby who seemed oblivious to the backpack or might have noticed it but decided to not do anything about it.
"There are several challenges when it comes to security for congregations," he said. "They are places of mass gatherings, there could be a lack of emergency action plans and a lack of training for what we call the 'new norm,' and a lack of a visible deterrent."
Herrera offered some valuable tips to attendees to bring a positive conclusion to the session. He noted that the non-verbal risk mitigatory is a strong one whereby 80 percent of communication is non-verbal. He also shared that it is correct to profile behavior and not people.
"Someone does not meet the baseline for the environment that individual is in, then I don't care whether that person is tall or short, round or thin, don't care about the color of their skin," Herrera said. "Someone walks into your church with a backpack and wearing camouflage, that individual raises suspicion."
SOME FATAL SHOOTINGS THAT HAVE HAPPENED AT U.S. HOUSES OF WORSHIP FROM 2012-2018 (from Associated Press):
Oct. 27, 2018: A gunman believed to have spewed anti-Semitic slurs and rhetoric on social media entered Tree of Life Congregation synagogue in Pittsburgh and opened fire, killing 11 and wounding six, including four police officers.
Nov. 5, 2017: Dressed in black tactical-style gear and armed with an assault weapon, 26-year-old Devin Kelley opened fire at the First Baptist Church of Sutherland Springs, Texas, killing 26 people and wounding about 20 others.
Sept 24, 2017: Emanuel Kidega Samson, 25, was charged with killing a woman and wounding six other people with gunshots at Burnette Chapel Church of Christ in Nashville, Tennessee.
Aug. 13, 2016: Imam Maulana Alauddin Akonjee and his friend Thara Uddin were fatally shot as they left a New York City mosque. Oscar Morel, 35, was charged with second-degree murder.
Aug. 9, 2016: A shooting during a party at a Jersey City, New Jersey, church left 17-year-old Leander Williams dead and two teenage girls wounded. Daequan Jackson, 18, was charged with murder.
April 24, 2016: Mark Storms fatally shot 27-year-old Robert Braxton III during Sunday services in a suburban Philadelphia church. Storms, 46, argued self-defense, but was sentenced to 10 to 20 years in prison for voluntary manslaughter.
Feb. 28, 2016: Rev. William B. Schooler, 70, was fatally shot by his 68-year-old brother inside an office at St. Peter's Missionary Baptist Church in Dayton, Ohio, as Sunday services were winding down. Daniel Schooler was found guilty of murder and sentenced to 31 years to life in prison.
June 17, 2015: Nine black worshippers including a pastor were killed by Dylann Roof, a 21-year-old white supremacist, after he prayed with them for nearly an hour. The shooting happened at historic Emanuel African Methodist Episcopal Church in downtown Charleston, South Carolina. Roof was convicted of federal hate-crime and obstruction-of-religion charges and sentenced to death.
April 13, 2014: Neo-Nazi and former Ku Klux Klan leader Frazier Miller Jr. fatally shot Dr. William Corporon and his 14-year-old grandson Reat Underwood outside an Overland Park, Kansas, Jewish center as they arrived for a community event. He then drove to a Jewish retirement community where he fatally shot Terry LaManno, who was visiting her mother.
March 31, 2013: A 28-year-old man fatally shot his father during Easter services at the Hiawatha Church of God in Christ in Ashtabula, Ohio. Reshad Riddle then made a rambling statement at the pulpit while yelling about God and Allah, still holding his handgun as panicked worshippers fled the church.
Dec. 2, 2012: Elementary school music teacher Gregory Eldred, 52, shot his ex-wife, Darlene Sitler, while she played the organ during a church service at the First United Presbyterian Church in Coudersport, Pennsylvania.
Oct. 24, 2012: A former facilities maintenance employee at World Changers Church International in College Park, Georgia, opened fire, killing church volunteer Greg McDowell, 39, while he was leading a prayer. Police arrested Floyd Palmer, 51, who was found guilty but mentally ill and sentenced to life in prison.
Aug. 5, 2012: Six members of the Sikh Temple of Wisconsin, in Oak Creek, were fatally shot by a white supremacist, Wade Michael Page. Page was shot by a responding officer and later killed himself.
May 9, 2012: Joseph Lewis Jr., 84, was fatally shot while sitting in a car guarding Victory Way Assembly Church of God in Christ in Detroit, Michigan. Two teenagers, 15-year-old Anthony Williams and 18-year-old Alandre Boone, attacked him while a Bible study took place inside. Police suspected robbery was the motive. Both teenagers were tried and convicted as adults for second-degree murder.
May 3, 2012: A homeless man killed himself after fatally shooting a priest and a church secretary at St. Peter's Episcopal Church in Ellicott City, Maryland. Police said Douglas Franklin Jones had been turned away from the church food bank about two weeks earlier for visiting every day instead of weekly.
Source: News reports.
Pictured: Jeffrey Perrin, Hyatt Hotel & Resorts, Chicago; Mark Herrera, IAVM; and Tim Litherland, Visit Denver, The Convention & Visitors Bureau